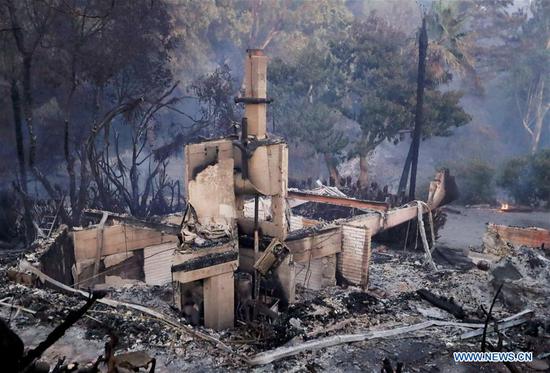 Photo taken on Nov. 10, 2018 shows remains of a construction destroyed by fire in Malibu, California, the United States. (Xinhua/Li Ying)
The death toll from Camp Fire in the U.S. state of California has increased to 42, making it the deadliest in the state's history, local authorities said Monday.
An additional 13 bodies were discovered Monday in Northern California, said Butte County Sheriff Kory Honea. The dead were so badly burned that authorities brought in a mobile DNA lab and consulted forensic anthropologists for help in identifying them.
Honea said more than 200 people remain missing in and around the town of Paradise.
The fire, which decimated the town, has burned 117,000 acres (473 square km) and is now about 30 percent contained, according to the California Department of Forestry and Fire Protection (Cal Fire).
Cal Fire Deputy Chief Scott McLean said winds would be dying down Monday while humidity began to rise, which would help the firefighters.