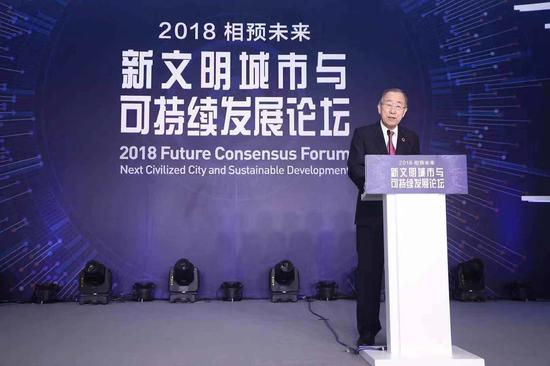 Ban Ki-moon makes a speech in the forum, November 5, 2018. (CGTN Photo)
The "2018 Future Consensus Forum" was held in Beijing under the theme of "Next Civilized City and Sustainable Development" from November 3 to 5. The conference, which was organized by Korea's Future Consensus Institute and China's Tsinghua University, marks a big leap in the ongoing upgrading of Asian cities.
The next civilized city matters
The three-day forum attracted multiple Chinese and Korean politicians, entrepreneurs and experts from various fields of the world to share ideas for the sustainable development of future cities and humanity, and to discuss ways to cooperate and make a new urban civilization. Topics on digital technologies, public policies, city planning, city mobility and more were discussed in relation to a wide range of related industries including auto, fashion, insurance, design, Internet technology, and healthcare.
The former secretary-general of the United Nations Ban Ki-moon warned that "climate change today is the root cause of poverty, disease, hunger, security concerns and energy crisis" and stressed that a next civilization, nurtured in new creative cities, must be created. "We must create new shelters for a new civilization for the 2.5 billion people of the world that will be moving to cities in the future," he added.
Cities are the mother of civilization. Cities are also the result of civilization. The creativity of next civilization will come from three aspects: overcoming unsustainability, taking control of digital technology for the city, and creating new values in the city.
China is key
As "China" was a repeated focus, representatives from the country's academia, industry and foreign institutes explained further why the country is playing such a key role in developing future civilized cities.
At present, 80% of urbanization and 80% of all new cities are being built in Asia, with China accounting for more than half of that figure. A successful Chinese model of urbanization and smart city will greatly influence the sustainability of humanity. On the other hand, if China fails to progress beyond imitating modern metropolises, it could threaten the future of sustainable world building.
Considering the proactive participation of China's private sectors and public organizations in sustainable development, the forum highlights how important it is for China to form a global institution during this digitalized era to create a new civilization. Cases from 40 years' worth of urbanization in China have been shared and both remote-area online learning and Xiong'an New Area digitalization embody China's search for sustainability via a new civilization.
Working together to make "smart cities"
"The world is working together for the common evolution of humanity," Yeosijie (Future Consensus Institute) President Lee Kwang-jae told CGTN, "we have seen an example of Wikipedia. 70 million people from around the world voluntarily take part in editing 2.4 billion lines of text, and Microsoft is experimenting with new smart cities in Arizona and Google is in Canada."
He believes that a city's new civilization can be realized through long-term planning and by leveraging resources from many sides. Institutes, as an important aspect in this planning, are the main method of integrating technologies and ideas.
When it comes to the feasibility of creating a new model for smart cities, Lee looked at Korean towns, Chinese new area building and Singapore's smart twin cities as examples of how digital technologies, environmental resources and public-private sectors cooperation can combine. On both the national level and private-sector level, it is feasible and inevitable that this kind of combination will take place when developing new cities.