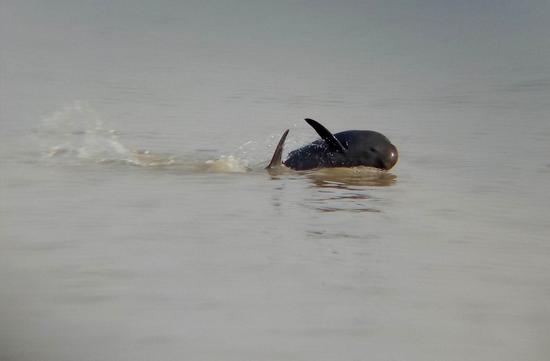 A finless porpoise, an iconic species in the Yangtze River, is pictured swimming in Poyang Lake, a water body connected to the river. (Photo/Xinhua)
Special: Yangtze River Economy
Central government departments as well as local governments of provinces along the Yangtze River vowed to jointly protect the ecological environment of the "mother river".
Despite heartening results in stopping the rapid depletion of aquatic biological resources in the Yangtze River, the environmental protection situation for the river remains severe and complex, Han Changfu, the head of the Ministry of Agriculture and Rural Affairs, said at a forum held in Wuhan, Central China's Hubei province, on Saturday.
"Protecting aquatic biological resources of the Yangtze River and restoring its eco-environment is an extensive and comprehensive social project of huge significance," Han said.
A declaration on protection of Yangtze River was made at the forum jointly by five central departments and the governments of 15 provinces, regions and municipalities along the river.
Han said a top priority should be given to the restoration of the ecological environment in the Yangtze River, while the livelihoods of fishermen should be guaranteed through exploring a diversified eco-compensation mechanism.
Li Chunliang, deputy director of the National Forestry and Grassland Administration, said the administration will implement comprehensive restoration projects targeting forests, grassland and wetlands in the Yangtze River base to improve stability and carrying capacity of the ecological system.
By the end of 2017, 896 natural reserves have been established in the provinces, regions and municipalities the trunk of Yangtze runs through, Li said.
The Yangtze River, stretching over 6,000 kilometers, is the world's third-longest. The river basin covers one-fifth of China's territory, and is home to one-third of the country's population and accounts for two-fifths of the country's GDP. It is also home to 424 fish species, among which 183 are indigenous.
In recent decades, the ecological environment of the river has been deteriorating as a result of human activities.
"The aquatic ecological environment of the Yangtze River faces problems, such as construction of water conservation projects, separation of rivers and lakes, overfishing, water pollution and invasion of alien species," said Chen Yiyu, an academician at the Chinese Academy of Sciences.
There are more than 50,000 dams built in the Yangtze River basin, he said, among which nearly 20,000 are hydropower stations. These have a huge influence on the ecological environment of the river.