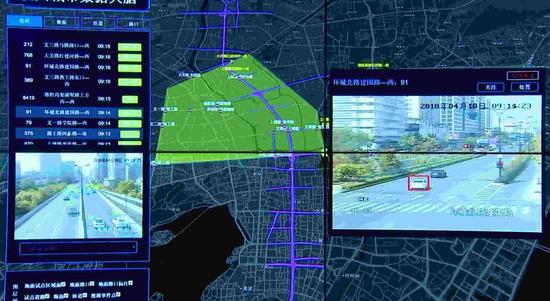 Alibaba's ET City Brain is now one of the most cutting-edge and comprehensive smart city programs in China. /CGTN Photo
We live in an era where technology breaks new ground almost every day.
Engineers and researchers are moving quickly too, with a focus on making the places we live in better, safer and smarter via new innovations.
According to the World Health Organization, every year, traffic accidents claim the lives of more than 260,000 Chinese people.
But in the eastern Chinese city of Hangzhou, authorities are trying to reduce that number with the help of video surveillance cameras on traffic lamp posts.
Xu Jitao is a banking and marketing expert who drives to work from his suburban home every day.
"We're all very cautious on the road nowadays," Xu said. "Many cameras are connected to an artificial intelligence system. Any bad driving will be recorded immediately and reported. So the traffic order in Hangzhou is much better than before."
There are hundreds of traffic lights and video surveillance cameras across the city. But how can experts make them smart enough to recognize or even forecast anomalies on the roads?
Chinese tech giant Alibaba has spent the last two years working with traffic police on a cloud computing system called City Brain.
"We use current AI technology, and computation power to mine and extract data in the city," said Alibaba Vice President Hua Xiansheng. "This is the main idea of City Brain."
With real-time video processing, City Brain can report possible car crashes, confirm accidents in 20 seconds and even automatically alter traffic lights to let ambulances drive through.
Hua said Alibaba's technology can make the cameras automatically check what's going on.
"The detection accuracy is currently 95 percent, and will get better," according to Hua.
As Alibaba is trying to keep Hangzhou's traffic in order, across the Pacific, Facebook is speeding up its Wi-Fi connection in California's Bay Area.
The city of San Jose is now working with Facebook on a small white box called Terragraph installed on the traffic lamp posts.
In dense urban areas, excessive consumption of high-resolution photos and video often slows data transmission.
But Terragrah can bring high-speed connectivity to those areas. Now, over 250 Terragraph boxes have been installed in the city. And it also has one more advantage.
"What it does is it replaces the backhaul that you normally do with fiber," said Kip Harkenss, San Jose's deputy city manager. "It does it through the air."
With a smarter traffic infrastructure and faster data transmission may come the next generation of urban transportation. Companies in China and the US have already made progress toward that goal of building an urban flying taxi network.
In February, a company named Ehang flew the world's first driverless passenger drone in the southern Chinese city of Guangzhou.
Four months later in Las Vegas, US, Sebastian Thrun, a former Google X chief flew the Kitty Hawk. That opened public trials of flying cars with simple control sticks.
"The air is very ample. It's generally very safe," Thrun says. "It's almost got nothing to hit. And it's very efficient because it goes in a straight line."
From the smart city to flying cars, the future of city transportation may arrive sooner than we think.
By Ge Yunfei