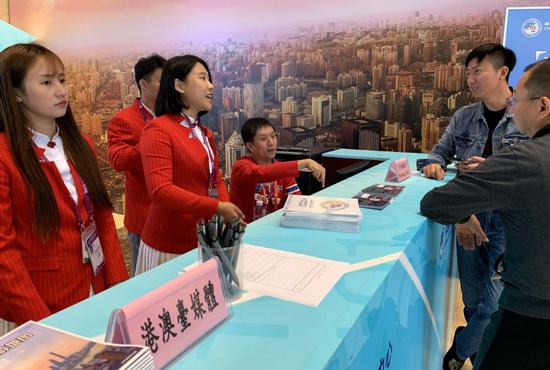 Journalists get information at the China International Import Expo media center on Friday in Shanghai. The media center officially opens on Saturday. (WANG ZHENGHUA/CHINA DAILY)
Special: China's First Import Expo
More than 4,100 reporters from 65 countries as well as the special administrative regions of Hong Kong and Macao, and Taiwan, have signed up for the inaugural China International Import Expo as the event's media center opens on Saturday.
Journalists from 630 media outlets are expected to cover the expo, to be held from Monday to Saturday at the National Exhibition and Convention Center (Shanghai). The big story is China's further opening-up amid rising protectionism globally, officials said.
In addition to Chinese media workers, "all major overseas media groups, such as Bloomberg, have signed up for the expo among a large group of foreign media workers", Shanghai municipal government spokesman Xu Wei said at a news briefing at the media center on Friday.
The event's organizer also said that the media center will serve journalists wholeheartedly, build a good working environment and assist them to complete their coverage of the expo.
The media center, covering 13,000 square meters, is located in the first to third floors of a convention center office building. It is divided into sections of information, public and designated working areas; equipment rooms for broadcasting, TV and social media; news conference rooms as well as catering and leisure service areas.
The public working area on the second floor has about 500 seats and working positions, all equipped with interfaces for digital audio and internet. Large LED screens and TVs will do live transmission of what's happening in the exhibition center and display information related to the expo. Copy and fax machines, telephones and printers are also available. Free Wi-Fi will cover the center, allowing 4,000 people to surf the internet simultaneously.
By downloading a specially designed mobile phone app, registered reporters can get access to live broadcasts of the expo, receive official news notifications and learn about the media center and real-time nearby traffic conditions.