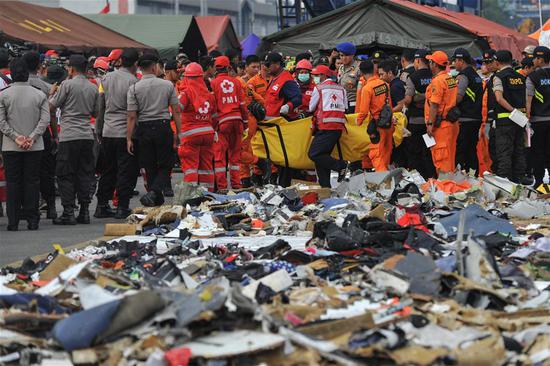 Indonesian Search and Rescue (SAR) members carry a body bag that contains victim of the crashed Lion Air JT 610 to ambulance, at the Tanjung Priok port, Jakarta, Indonesia, Oct. 31, 2018. Search teams on Wednesday detected signals possibly from a black box of the crashed Indonesian Lion Air plane, a rescue official said. (Xinhua/Veri Sanovri)
Rescuers had detected signals of the black boxes of the Lion Air plane that crashed on Monday in waters off West Java province, head of Indonesia's national search and rescue agency Muhammad Syaugi said on Wednesday evening.
The divers had also discovered items belonging to the passengers onboard the plane on the sea bed, indicating the fuselage of the plane is not from the area, the official said.
Speaking at a press conference, Muhammad Syaugi said, "We have detected the black box signal."
"We could see a lot of passengers' belongings underwater, not just on the surface."
Syaugi, however, said strong underwater currents hampered the efforts to find the fuselage of the plane which was believed to be nearby.
"We are certain that not far from the site there is the fuselage of the plane."
The plane enroute to the city of Pangkal Pinang with 189 people on board was reported missing at around 6:30 a.m. local time Monday (2330 GMT Sunday), and was believed to have crashed 13 minutes after taking off from Jakarta's Soekarno-Hatta international airport.
All 189 were feared dead as only body parts and plane debris have been found so far in waters off the province's Karawang regency.