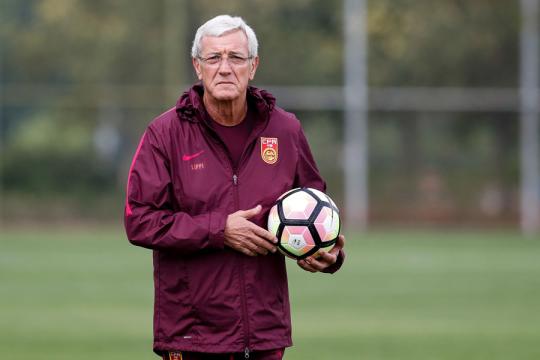 File photo of Marcello Lippi, head coach of China. (Photo/China Daily)
As expected, Marcello Lippi will leave his role as head coach of China's national team next year, but who will replace the Italian is now anyone's guess.
The 70-year-old on Tuesday confirmed he will not seek to renew his contract following a two-year stint at the helm that has produced minimal, if any, improvement on the pitch.
"Everyone knows that I will resign after the Asian Cup (in March)," said Lippi, who also worked in China from 2012-14 as Guangzhou Evergrande boss.
"The Chinese Football Association has offered me a new four-year contract, but it's time for me to return after six years away from home. China is too far away from my home, and I want to enjoy my life with my family."
Lippi, whose trophy-jammed resume includes World Cup, Serie A, Chinese Super League, UEFA and AFC Champions League titles, denied the CFA was not keen on retaining his services because of the team's lackluster performances.
"No, no, no," he said. "We've tried our best. I think we've done a great job and Team China has improved. There might not have been any major achievements, but we started from the bottom.
"I hope I'm leaving an important legacy behind. I will not coach an Italian club or work for any club. But if another national team that is not far away like China wants to hire me, I'll consider it."
As for Lippi's successor, Oriental Sports Daily has reported that the CFA is looking for a homegrown coach who understands China and the soccer scene here.
The newspaper claims the CFA is trying to learn from the example set by the Chinese Basketball Association, which, under the leadership of NBA Hall of Famer Yao Ming, has revitalized the country's fortunes on the court.
The appointment of Li Nan, a former CBA player and club manager, spurred China to hoops gold at this summer's Asian Games in Indonesia.
Oriental Sports Daily said Li Xiaopeng, head coach of CSL side Shandong Luneng, and Li Tie, boss of second-tier Wuhan Zall, are under consideration for the national team job.
Although Lippi's diligence was not in question, Italy's 2010 World Cup winner ultimately failed to breathe new life into the squad, which continues to be predominantly composed of veteran players.
In a bid to better harness younger talent, the CFA in September put renowned Dutch coach Guus Hiddink in charge of China's under-21 squad, with the former Chelsea, Real Madrid and Netherlands boss tasked with leading the squad to the 2020 Tokyo Olympics.
Hiddink, though, has appeared to play down expectations ahead of the start of qualifiers.
"It's a challenge for me, of course, because I know soccer in China is in a developing state," he said last month.
"We knew and the CFA knew that this is a difficult road to go, but why not try? Yes, we can sit back and be scared. Just let everyone be competitive."
In other attempts to invigorate the youth ranks, the CFA plans to launch an under-23 pro league and has assembled a raft of top under-25 talent at an ongoing military-style training camp in Shandong province.
The CFA also continues to impose a tax on foreign player transfers to the CSL.