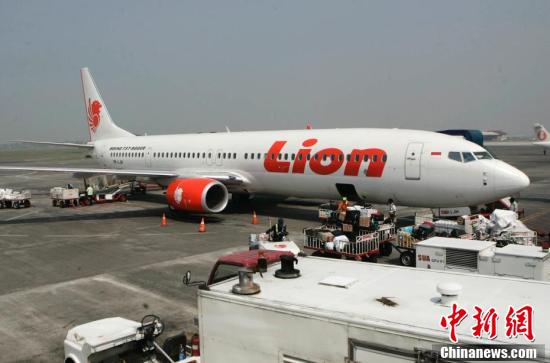 An Indonesian Lion Air passenger plane. (File photo/Agencies)
An Indonesian Lion Air flight crashed on Monday morning shortly after taking off from the capital Jakarta to Pangkal Pinang. Here's what we know so far:
·The plane crashed into the Java Sea
·188 people on board
·Casualties unknown

Updated at 11:30 a.m. BJT
The Lion Air flight JT610 crashed into the sea off Indonesia's island of Java on Monday, shortly after takeoff from the capital Jakarta, Indonesia's search and rescue agency said.
A search and rescue operation is reportedly underway.
Local media reported that wreckage of the flight and some personal items from passengers were found at the Java Sea. 
Updated at 11:00 a.m. BJT
The plane carried 188 people, including passengers and crew members, according to local media. 
"It has been confirmed that it has crashed," Yusuf Latif, a spokesman for the Indonesian rescue agency said, adding that the plane crashed into the sea. 
The plane took off from the Soekarno-Hatta International Airport at 6:20 a.m. local time and was scheduled to arrive in Pangkal Pinang, on the Island of Bangka, at around 7:20 a.m. local time. 
Updated at 10:37 a.m. BJT
The Lion Air JT 610 lost contact 13 minutes after takeoff, according to the official.
The plane is a Boeing 737 MAX 8 and is capable of seating up to 210 passengers. But it was not immediately clear how many people were on board.
The cause of the crash remains unknown and so far there have been no reports on the number of casualties.