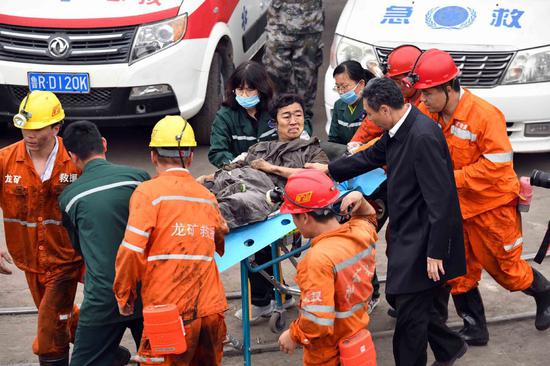 Emergency personnel surround a dazed worker as he is rescued from a coal mine accident in East China's Shandong province on Oct 21, 2018. (Photo/Xinhua)
Two people have died and 18 remain trapped after a rock burst on Saturday night in a coal mine in Yuncheng county, Shandong province.
The burst happened around 11 pm and destroyed part of a water drainage tunnel in a coal mine operated by Shandong Longyun Coal Industry Co.
At the time, 334 people were working underground. Of those, 312 were lifted to safety immediately, Zhai Minghua of Shandong Energy Group, which oversees Longyun, said at a news conference at noon on Sunday.
He said rescue work started immediately after the burst. As of 11 am Sunday, ventilation had returned to around 200 meters of the damaged part of the tunnel, with about 50 meters still to be repaired.
The rescue work for the trapped workers was hampered by continued rockfall in the tunnel, Zhai said.
By press time, two of the 22 trapped workers had been lifted out.
Huang Ming, Party secretary of the Ministry of Emergency Management, said no effort should be spared in rescuing the trapped workers, and that attention should be paid to collecting data about the burst for the investigation to come.
More than 170 rescuers were dispatched to the site. Professionals were monitoring the mine and the surrounding areas for secondary problems triggered by the burst, said Gu Yongqiang, head of the county.
A rock burst is a violent fracture of rock that can occur in deep mines. "The reasons for a burst are complex, and the cause of this one is being investigated," Zhai said.