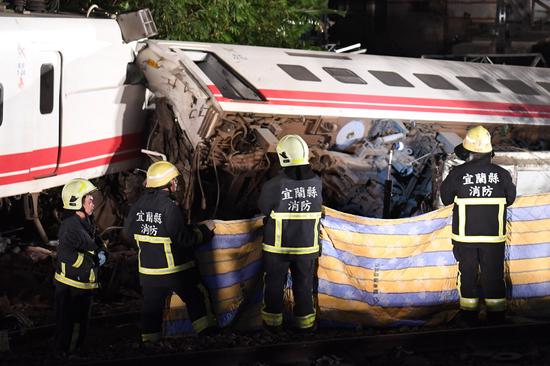 Photo taken on Oct 21, 2018 shows the train derailment site in Yilan County, East China's Taiwan. (Photo/Xinhua)
At least 18 people died and some 171 injured as of 11:30 pm Sunday, after a passenger train derailed in Taiwan earlier in the afternoon, according to the island's railway authority.
Authorities in Taiwan have lowered the death toll in a train derailment to 18.
Read: Two mainland passengers injured in Taiwan train derailment
The National Fire Agency had earlier cited the Cabinet spokesman's office as saying 22 people were killed when the Puyuma express train went off the tracks late Sunday afternoon, but later lowered the toll to 18, saying there was a mistake in the calculations.
Some 171 others were injured in the disaster.
The train was carrying more than 366 passengers from a suburb of Taipei toward Taitung, a city on Taiwan's southeast coast, when it derailed at 4:50 pm.
All eight cars of the express train derailed, with three of them overturned. The cause of the derailment is still under investigation.
Authorities are investigating the cause of the derailment.
The accident, the worst of Taiwan railways in more than three decades, happened on a popular line along the island's east coast. Train services in both directions have been halted.
One American citizen was injured while the rest are all from Taiwan, according to the local railway authority.
The injured passengers were rushed to four local hospitals for treatment.
The Puyuma Express has an operational maximum speed of 130 kph.