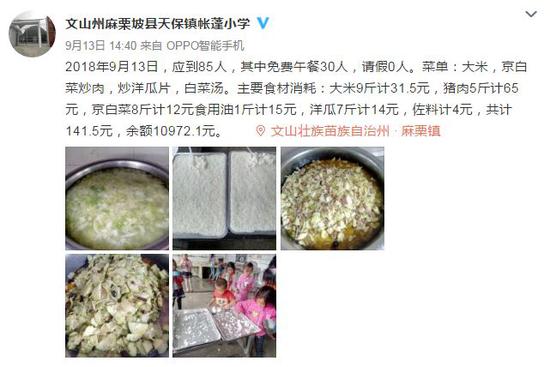 Photo shows lunch from a primary school in Wenshan prefecture, Yunnan Province. (Photo/weibo.com)
Rural primary schools in three counties posting lunch menus on their Weibo accounts are winning widespread approval among netizens.
Schools in Southwest China in Dechang county, Sichuan province and Wenshan prefecture in Yunnan province, and Hefeng county in Central China's Hubei Province are being recognized.
The posts contain detailed information, including how many students and teachers eat in the school canteen, the amount of food eaten and total money spent on each meal.
Although most of their posts initially had zero likes or re-posts, the schools continue posting the menus, with the earliest posts dating back to 2011.
After their efforts were reported online, the schools received many likes and warm comments.
Meanwhile, a primary school in Central China's Henan province is facing an online backlash after it was reported to have only served its students half a bowl of dry noodles as students' "healthy meal" – way below the nutritional standard set by the local education department.
According to a video released on Weibo on Sept 12, students at Dacao Primary School in Henan's Shangshui county were seen waiting in line and then each given about half a bowl of dry noodles from a canteen worker, who was grabbing noodles from what appeared to be a massive serving bowl.
The video also filmed the canteen bulletin board, which showed a daily menu specified by the education department. The daily healthy meal should have contained chicken, vegetables and porridge, which was apparently not followed by the school.
After initial investigation, the local education department on Sept 13 decided to remove the school principal from the post and sack a nutrition expert supervising the school.
In 2011, to improve the health conditions of students living in rural China, the country launched a large-scale plan with a budget of over 16 billion yuan ($2.3 billion) every year to ensure underprivileged children can enjoy free, healthy meals.