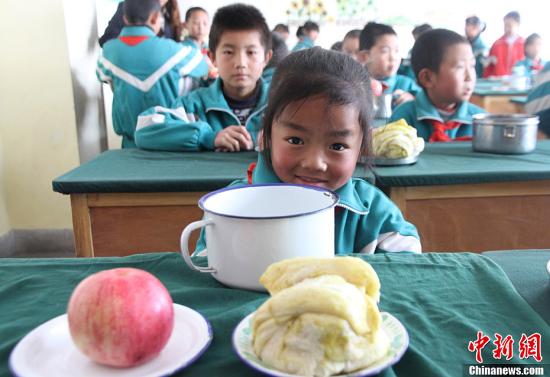 A pupil having her breakfast in a primary school in northwest China's Gansu province (Photo: Chinanews.com/Zhang Daozheng)
33.6 million students in rural China are now enjoying free meals at school, says the Ministry of Education.
The education ministry has also revealed that over half of primary and junior high schools in the country's rural areas offer free meals to students, many of whose families are too poor to afford a 4-yuan meal (some 0.6 U.S. dollars).
According to the authority, they have funded over 159 billion yuan since 2011 to cater for poor students to improve their diet.
Many students in China's remote and rural areas suffer from anemia, malnutrition and low body weight, while their schools are unable to either provide balanced and hygienic meals or even set up canteens.
The free meal program under the Ministry of Education was initiated in 2010 to help schools and local governments provide safe and sufficient food to students.
But the Chinese Center for Disease Control and Prevention said, although growth and development among students in rural areas has shown some improvement, the level is still lagging behind the country's average.
The CDC says that their diet is still short of protein and dairy.
Earlier reports are also suggesting that many preschool children in rural areas, not covered in the free meal program, in particular still cannot afford proper meals and eat cheap snacks instead, triggering calls for an expansion of the program.