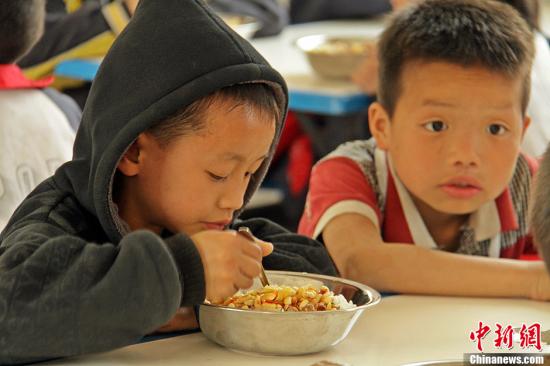 Children have their meal provided by government-funded program. (File photo/Chinanews.com)
(ECNS) -- Many schools in rural areas benefiting from the country's funding program fail to provide nutritional meals, the Ministry of Education said on Tuesday.
An official from Children Center under China Development Research Foundation said at a ministry news conference that meals provided by some schools contain large amounts of sodium but inadequate calcium, which is important in early physical development.
Only a few schools provided students with milk or bean products, the official added.
About 10 percent of schools used government meal subsidies to buy industrial food that is more expensive but provide less nutrition.
Eating too much food containing oil and sodium is bad for children's health, said the official, who urged schools to improve management and inspection on purchase processes and provide nutritional meals.
The central government started a multibillion-yuan program aimed at providing free, nutritious meals to rural students in 2011. An estimated 16 billion yuan ($2.5 billion) a year has been spent to improve standards of food offered in school canteens across poor areas, media reports said.
Children Center under China Development Research Foundation runs a program to help supervise and improve the use of funding in terms of nutritional meals, such as encouraging schools to make public its program implementation. More than 1,700 schools have joined the center's initiative.