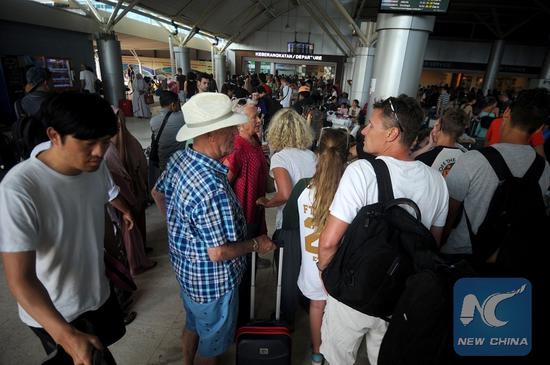 Tourists wait to check in at Praya International airport on Lombok Island, Indonesia, Aug. 6, 2018. (Xinhua/Agung Kuncahya B.)
An Indonesian official at the Tourism Ministry said here on Tuesday that the ministry is focusing on the efforts to evacuate foreign tourists stranded in three popular islands of Gili Trawangan, Gili Meno and Gili Air near the quake-hit Lombok island.
Death toll from Sunday's 7.0-magnitude quake in Indonesia reached 105 so far while a total of 4,636 visitors have been evacuated from the three islands near Lombok, according to latest official figure.
Close coordination with military, police and related institutions was underway now, Assistant Deputy Tourism Minister for Asia Pacific Marketing Development Vicentius Jemadu told Xinhua.
He said that vessels involved in the joint operation to evacuate foreign tourists have transported them to Bangsal and Bali ports and the operation also provides shuttle buses to hotels in downtown capital city of Mataram.
Hotel rooms were provided free for the affected foreign tourists after the evacuation from the three islands, he said.
However most of the tourists preferred to directly stay in the airport to ensure obtaining flights tickets to get them out of Lombok, he added.
Government has also engaged national airlines to provide extra flights from Lombok for the foreign tourists with Lombok airport is opened 24 hours to facilitate more frequent flights.
He estimated that the whole process to evacuate foreign tourists from Lombok may take a week.
"Tourist safety is government's priority through those measures we expect them to come back again to Indonesia and Lombok in the future," he said.
Apart from that, tourism recovery in Lombok may take three to six months due to damages in tourism infrastructure and accommodations following the powerful earthquake, he said.
The ministry would work hard to recover the tourism in Lombok as the exotic island was part of the nation's prioritized destination to attract foreign tourists.
"A coordinated effort with tourism stakeholders in Lombok and our ministry was still underway to update data on the affected tourism infrastructure and accommodation so as to make us easier in rebuilding those facilities," Jemadu said.
The strong earthquake has severed power supply, water installation and severely damaged hotels in Lombok that made many of them closed their operations, particularly those located in stricken areas, like in district of Senggigi that is popular among foreign tourists.
Cracks in hotel walls, fallen roof tiles and collapsed lobbies were obviously seen in several hotels in Senggigi that located alongside Lombok's beautiful beach facing Bali island.