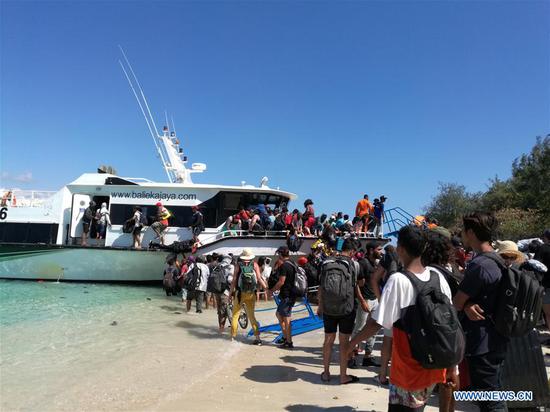 Visitors evacuate from Gili Trawangan near Lombok Island in Central Indonesia, Aug. 6, 2018. (Photo/Xinhua)
Around 40 Chinese tourists trapped in Indonesia's resort land of Lombok and nearby islands by a powerful earthquake are expected to be evacuated by Monday, as the death toll from Sunday's 7.0-magnitude quake rose to 98, with hundreds of others injured.
There were no Chinese casualties from the quake, according to a statement released by the Department of Consular Affairs of China's Ministry of Foreign Affairs on Monday.
Some of the trapped tourists have boarded boats at Lombok island and all Chinese tourists are expected to be evacuated by Monday, it said.
Efforts were being hindered by high waves Monday morning, but boats have arrived to evacuate the trapped visitors and other rescue efforts are on the way, a staffer from the Chinese Consulate-General in Denpasar, capital of Bali, told the Global Times on Monday.
The quake injured over 209 people, and caused damage to local infrastructure and houses, the staff member said.
Around 200 Chinese tourists were in Lombok when the earthquake took place, China Central Television reported Monday.
Returning to normal
Lombok island is a less-chosen destination for Chinese tourists compared to the nearby Bali island, as accommodations are less developed, Chinese travel agencies told the Global Times on Monday.
Most of the tourists in Lombok come from the U.S. and Europe, but the number of Chinese tourists has been increasing, Robert Zhang, a Chinese tour guide who has based in Bali for 16 years, told the Global Times on Monday.
The number of visits to Lombok booked through Chinese online travel agency Ctrip doubled this summer, with 54 percent of them aged from 30 to 39, the agency told the Global Times.
Popular attractions on the island include snorkeling, hiking, surfing and traveling to volcanoes, Chinese agencies said.
Local taxi driver Awan told the Global Times that everything was back to normal and power and communication have been gradually restored.
"There's no need to be worried," Zhang said.
Most of the Chinese tourists come to Lombok through Bali, which takes around two-and-a-half hours by boat or half an hour by air, travel agencies said.
Tourists made no cancellations or changes in plan on the island, according to Shanghai-based tourism company Lvmama.
Trips by over 300 Chinese tourists in Bali were not affected and there have been no changes or cancellations to Bali bookings, according to aoyou.com, a travel website under China Travel Depot, a major tourist service provider in China.
More than 120 aftershocks were recorded after Sunday evening's quake, Reuters reported. Lombok was hit a week earlier, on July 29, by a 6.4 magnitude quake that killed 17 people and briefly stranded several hundred trekkers on the slopes of a volcano.
Aid is flowing into the affected areas, including food, medicine and medical personnel. Two helicopters and communication devices were sent to the scene along with one navy hospital ship, the Xinhua News Agency reported.
The jolts caused minor damage to Lombok international airport in Lombok and Ngurah Rai International Airport in Bali. But operations continued, Xinhua said.