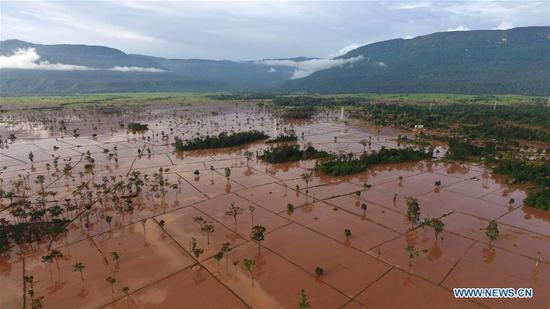 Aerial photo taken on July 28, 2018 shows the flooded area after a dam collapsed in Sanamxay District, Attapeu, Laos. (Xinhua/Liu Ailun)
Eight people were confirmed dead while 123 remained missing after a dam collapsed, triggering flash flood in southern Laos on Monday, a officer from Lao People's Army said on Saturday.
The rescue forces found one body on Wednesday, three on Thursday, three on Friday and another one on Saturday, thus the confirmed death tolls rose to eight, among which four are children, said Khamlieng Outhakaisone, Deputy Director General of the General Staff Department (GSD) of the Lao People's Army, and also commander of the rescue operation.
Khamlieng said the rescue forces have rescued 7,324 people from the disaster-hit area, 3,731 of them now living in shelters at Sanamxay District of Attapeu Province, 1,407 living in other two shelters outside Sanamxay and the rest living in several villages.
The Lao People's Revolutionary Party and the Lao government attach great importance to the rescue work, and the rescue operation has been supported by different government organizations and rescue teams, both from Laos and other countries, he said.
According to him, from Monday to Tuesday, the floods spread so quickly and widely and swept some villagers very far away. The floods also flew to forests and mid-wood, making it very difficult for the rescue work at the beginning and now the mud covers the disaster area after the floods subsided, becoming new obstacles for the rescue work.
The commander of the rescue work said the Lao army dispatched two planes, three helicopters, 10 boats and dinghies for the rescue work along with other vehicles from other rescue forces. They would reinforce some 100 personnel to five most severely affected villages to search for those who are still missing.
The collapse of a under-construction saddle dam of the Xepian-Xe Nam Noy hydropower project on Monday unleashed some 5 billion cubic meters of water to hit several villages of Sanamxay district.
Being constructed by Xe Pian-Xe Namnoy Power Company, a joint venture of South Korean, Thai and Lao companies, the hydroelectric power project is estimated to cost $1.02 billion, and to have an annual electricity generation of approximately 1,860 GWh.
Feasibility study for the hydroelectric project was completed in November 2008. Construction of the project began in February 2013 and commercial operations are expected to begin in 2018.