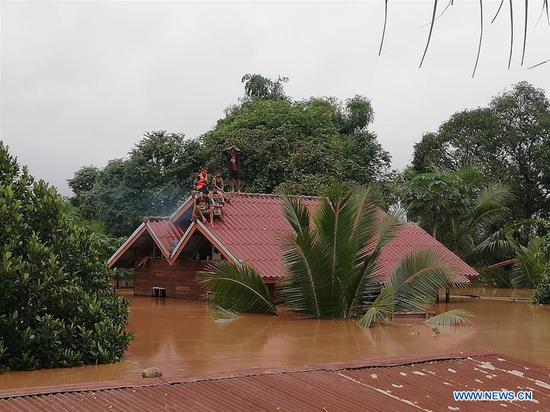 Villagers are seen stranded on rooftops of houses after an under-construction dam collapsed in Attapeu, Laos, on July 24, 2018. (Xinhua/Vilaphon Phommasane)
(ECNS) - No Chinese citizens were found among the casualties after a dam collapsed in a remote part of land-locked Laos, said the Chinese embassy in the country.
At least 20 people have died and more than 100 are missing in flooding following the collapse of a hydroelectric dam under construction in Attapeu province, according to media reports.
The dam is being built by Xepian-Xe Nam Noy, a Lao energy company, and no Chinese companies are involved, according to an embassy statement on its official website.
The Chinese Ministry of Foreign Affairs and other government departments have closely followed the disaster and launched emergency contingencies while maintaining contact with the country's foreign affairs and military, said the statement.
The embassy in Laos reminds Chinese citizens to be cautious when travelling to Attapeu province.