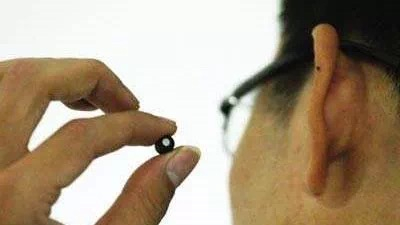 The micro-earphone that is often used during exam cheating. / Legal Daily Photo
Police in central China's Hunan Province cracked two high-tech exam cheating gangs after a student was caught cheating in an exam when a hidden earphone popped out of his ear after he suddenly sneezed.
On June 2, during a national qualification exam for associate constructors in Hunan's Changde City, a middle-aged examinee caught the attention of exam invigilators when he had a loud sneeze. A beige-colored hidden earphone was found popping out of his ear and dropped to the ground. And a woman could be heard talking in the earphone, reported Legal Daily on Wednesday.
The student was immediately taken aside by invigilators, followed by a body search. A white receiver was discovered hidden on his belt. At the same time, several students in the other examination rooms were captured wearing the same type of device.
After receiving the report, local police officers soon arrived at the examination site and began investigating. The police examined the cheating students, trying to find out where the devices came from. They also asked professionals to detect the source of the wireless signal.
However, since the cheating gang noticed that some students had been captured, the signal suddenly disappeared and the police couldn't detect it anymore. Meanwhile, the cheating students told the police that their devices were bought from someone they didn't know outside the examination site.
A turning point came when the police detected an unusual signal again in the afternoon. They located the suspect and successfully captured Tang, one of the shareholders of a local education counselling company, in a nearby tea house.
As one of the cheating students also confessed to the police that his cheating device was bought from a local education counselling company, the police headed to the company and discovered lots of such evidence, including a large number of cheating devices and some forged official seals of administrative bodies and enterprises.
Other accomplices were also caught by police or gave themselves up to police on June 11. All suspects pleaded guilty to the police for selling cheating devices and conducting cheating operations during the exam in June 2.
During the investigation, the police also discovered another group involved in the cheating case after they found suspects had got the exam's answer from a Changsha-based enterprise management consulting corporation.
All 13 suspects were captured and two gangs were taken down by the local police.
In addition, it was not the first time these suspects had dabbled in exam cheating operations. In May 2017, one of the suspects helped more than ten students to cheat in the qualification exam for associate constructors in Hunan's Chenzhou city. They were also accused of arranging people to replace students to take the exams.