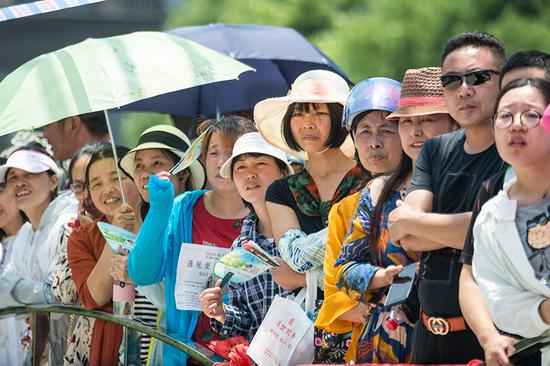 Parents and family members await students outside the entrance to an examination site in Haian, Jiangsu Province, during the annual national college entrance exams on Thursday. It was the first of two days of testing across the country. (Xu Jinbai/For China Daily)
Most students in 8 years turn out for national college-entrance test
The national college entrance exam-a make-or-break opportunity for Chinese students-started on Thursday, with a surge in test takers this year due to the "baby boom" at the start of the millennium.
About 9.75 million students were expected to take the exam, 350,000 more than in 2017 and the highest number in eight years, according to the Ministry of Education.
The exam, known in Chinese as gaokao, is pivotal for high school students, as it determines which universities they will be able to apply to-and potentially their future career prospects.
Chu Zhaohui, a senior researcher at the National Institute of Education Sciences, said many of those taking the gaokao this year were born in 2000, when the birthrate soared as parents saw it as an auspicious year to have a child.
That year saw about 17.71 million newborns, a number exceeded only in 2016-18.46 million-when China began to allow all couples to have two children, according to the National Health Commission.
A record 10.5 million people took the gaokao in 2008, but the number has declined steadily since.
Jia Yinan, 18, from the High School Affiliated to Renmin University of China, said taking the gaokao is an important and unforgettable experience and made her a "more mature person".
Her goal is to be enrolled in the Central Academy of Fine Arts majoring in art history.
"Preparing for the exam over the past three years made me realize that as long as you really put effort into a goal, you will succeed," she said.
Liu Zhaoting, 19, from the same school, said after taking her first set of exams that the questions were easier than she imagined and her hard work in preparation "has paid off". "There was less pressure on me, as I can choose to go abroad if I do not score high in gaokao," she said.
Sun Yan, from Beijing Bacui Bilingual School, said "seeing everyone fighting for the same goal has made me a more diligent person" and that he made some of his best friends during the past three years as they went through good and bad times together.
Parents seemed more nervous than their children, as they waited under the scorching sun in Beijing outside the test centers.
Standing under the trees or their umbrellas, some parents chatted with each other as they paid attention to any movement from the test rooms during the first 2.5-hour exam, on the Chinese language.
"I want my son to see me as soon as he walks out of the test room so he will be more relaxed," said Yang Yan, who took the day off on Thursday to accompany her son. Her husband was to take her place on Friday.
"The whole family is rooting for him," said Yang, who wore a traditional qipao, or cheongsam, to the test center for good luck.