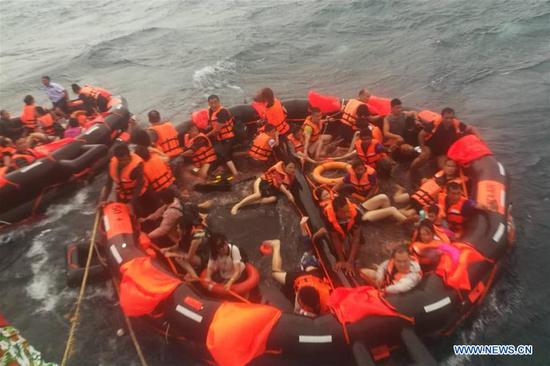 Rescued tourists are seen on life rafts near the island of Phuket, Thailand, July 5, 2018. Until 8:30 p.m. local time (1330 GMT) Thursday, the majority of 133 passengers on two boats overturned by rough seas in southern Thailand were saved, but the Thai authority cannot confirm all of them are saved now, said Chinese Consulate-General in Songkhla on Thursday.(Xinhua)
Thai rescuers have recovered the body of one tourist and are looking for another 53 people who went missing after two boats overturned off Phuket province on Thursday, according to local media.
Among the missing, 50 people are Chinese nationals.
Chinese broadcaster CCTV said the tourist whose body was retrieved from water belongs to a Chinese tourist, without elaborating.
The two boats, carrying a total of 127 Chinese tourists, including a 36-member tour group from east China's Zhejiang Province capsized on Thursday afternoon in rough seas.
The Thai maritime department said 76 Chinese tourists have been rescued so far and the injured are receiving treatment in hospital.
The Thai navy will arrange a helicopter to assist the rescue operations on Friday morning.