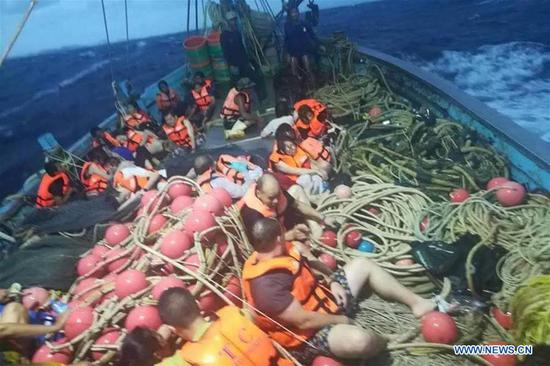 Rescued tourists get on a boat near the island of Phuket, Thailand, July 5, 2018. Until 8:30 p.m. local time (1330 GMT) Thursday, the majority of 133 passengers on two boats overturned by rough seas in southern Thailand were saved, but the Thai authority cannot confirm all of them are saved now, said Chinese Consulate-General in Songkhla on Thursday.(Xinhua)
Rescuers found a body of a tourist and are looking for another 53 people that are still missing, after three boats overturned in rough seas in Thailand's Phuket province, the governor of Phuket Province was quoted by local media as saying late Thursday.
According to Thai media Thai PBS, Governor Norraphat Plodthong said there were a total of 93 people, 12 of them crew members and guides, onboard a boat named "Phoenix," which overturned near Koh He Island of the Phuket Province.
Norraphat said 27 tourists and all 12 crew members and guides were rescued, one body was found, and 53 still missing.
He said the Thai navy will arrange a helicopter to assist rescue operations on Friday.
Another boat named "Jet Ski" with two Russian passengers, and a third boat carrying 41 passengers, two crew members and 39 tourists, also overturned, but all those on board have been rescued.
The consulate-general confirmed there were some Chinese tourists onboard "Phoenix", but could not confirm the exact number yet.