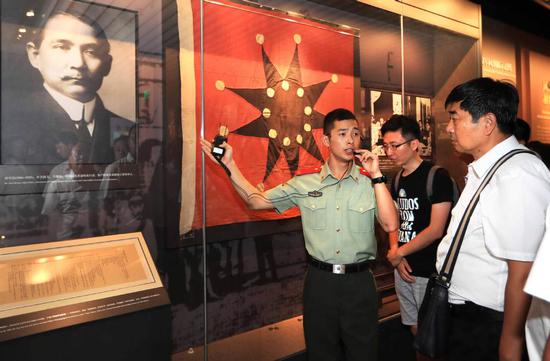 Li Haigang, a member of the People's Armed Police Force's Shanghai squad, guides visitors at the site of the Communist Party of China's First National Congress in Shanghai. (ZHANG HAI/FOR CHINA DAILY)
Knowledgeable volunteers guide locals, tourists around historic Party sites in Shanghai; offer free social services
As the People's Republic of China nears its 69th anniversary, a law enforcement division in Shanghai is helping people better appreciate the magnitude of events leading up to and following the historical event in 1949 - as well as diversifying its role in society.
The People's Armed Police Force unit in Shanghai aims to shoulder a greater role in working for the people in the context of Xi Jinping Thought on Socialism with Chinese Characteristics for a New Era, while also meeting expectations for a stronger and more diverse military, according to officials.
In addition to new volunteer activities to help improve society, the force has also shouldered the responsibility of maintaining social stability and guarding the nation's assets and pledged to focus on fighting terrorism and maintaining public order.
Wang Yu, a member of the force's Shanghai squad, is the 71st docent - or tour guide - at the site of the Communist Party of China's First National Congress, which took place on July 23, 1921.
"As a member of the armed police, it's my privilege to introduce the history of the CPC and the development of the country to Chinese and foreign visitors," said Wang, who started as a guide last month.