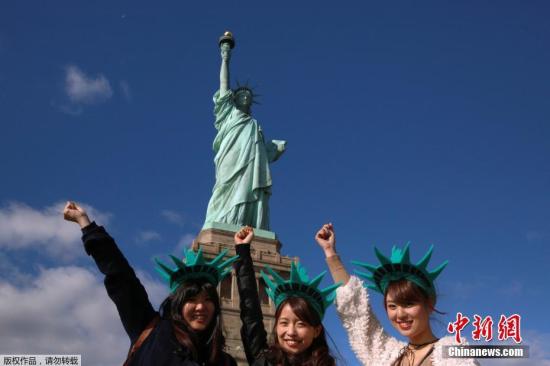 Women pose in front of the Statue of Liberty. (File photo/China News Service)
The United States was ranked for the first time among the 10 most dangerous countries for women, according to a poll of global experts released on Tuesday.
Thomson Reuters Foundation surveyed 548 experts on women's issues, asking them which countries they thought were most dangerous for women. The fields used as yardsticks were healthcare, discrimination, cultural traditions, sexual violence, non-sexual violence and human trafficking.
The United States was ranked third most dangerous country in terms of sexual violence and sixth in terms of non-sexual violence including domestic, physical and mental abuse. Overall it ranked 10th most dangerous country for women.
The survey was taken after the #MeToo campaign against sexual harassment went viral in the United States in October last year after Hollywood movie mogul Harvey Weinstein was accused of sexual misconduct by more than 70 women.
Hundreds of women have since publicly accused powerful men in business, government and entertainment of sexual misconduct and thousands have joined the #MeToo movement to share stories of sexual harassment or abuse.
The United States is the only Western nation appearing in the top 10. The others are India, Afghanistan, Syria, Somalia, Saudi Arabia, Pakistan, Democratic Republic of the Congo, Yemen and Nigeria.
India, faring worst in terms of cultural traditions, sexual violence and human trafficking, topped the list.