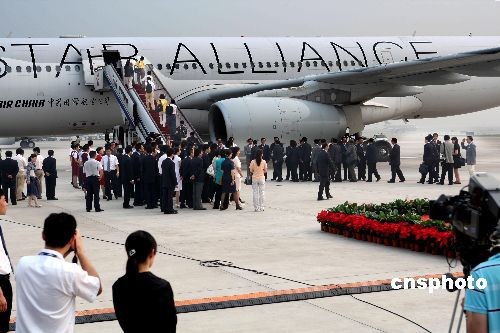 Passengers get aboard a flight at the Beijing Capital International Airport. (File photo/China News Service)
(ECNS) - China's civil aviation authorities have vowed to increase penalties against carriers that violate rules or refuse to accept inspections, according to the latest amendment to the Operations certification: Foreign Air Transportation Carriers (CCAR-129-R1).
The Civil Aviation Administration of China organized a meeting on June 25 to urge all civil aviation companies and foreign airlines operating in China to fully understand the significance of the regulations and improve safety operations.
The amendments place stricter requirements on the on-board terrain awareness and warning system and traffic collision avoidance system, demand rigorous recording of compliance violations, and raises the upper limit of punishment for refusal to accept inspections.
Authorities will make comprehensive use of big data analysis to further promote supervision, allocate supervision resources for key companies, and increase administration of carriers that suffered from frequent security issues.
Li Jian, deputy director of the administration, said the regulation, as the localized version of standards of the International Civil Aviation Organization, is important to ensure the safety of people's lives and property and improve the operations of foreign air carriers.
Foreign carriers under the jurisdiction of CCAR-129 operated 547,000 flights in 2017, which accounted for 48 percent of China's total international flights, and transported 72.6 million passengers, about 51 percent of total international flight passengers, Li said.