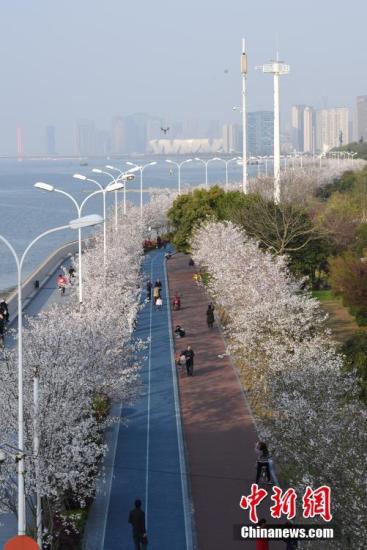 People walk along a road with cherry blossom trees on both sides. (File photo/China News Service)
(ECNS) -- China's first-tier metropolises are losing their luster among graduates from foreign universities, who now prefer to work in smaller, emerging cities like Hangzhou in Zhejiang Province, said a report by recruitment site Boss Zhipin. 
The study of 104,000 job-seekers who completed bachelor's or master's degrees abroad in 2017 and 2018 showed that more graduates were willing to return to China as more cities introduced incentives to attract globally competitive talent. Top-caliber professionals with rich work experience abroad also joined the trend to work in China. 
Due to increasing employment competition in first-tier cities and strong growth in emerging cities, there's been a shift in preference of cities where returnees choose employment. 
In the first half of 2018, the number of returnees who chose to work in Beijing, Shanghai, Guangzhou and Shenzhen dropped 1.3 percent from the same period last year, the data showed. Meanwhile, the number of those preferring second-tier cities rose by 1.2 percentage points to 28.3 percent. 
Although Beijing and Shanghai were still clearly the most preferred cities to gain employment, they were gradually losing their appeal. The number of students who graduated this year with Beijing or Shanghai as their first choice dropped by 1.28 percentage points and 0.26 percentage points respectively. 
In comparison, Hangzhou saw a 0.66 percentage point increase, the most upbeat growth, followed by Chengdu in Sichuan Province and Nanjing in Jiangsu Province.
Internet-focused jobs continue to attract young returnees, with two percent more expected in the pan-Internet industry in the first half of 2018 than in the same period in 2017.
Returnees who chose traditional industries were dropping, with the largest falls in the advertising and consumer goods industries.
Of the 30 companies most favored by returned students on the Boss Zhipin platform, 14 were technology companies, up five when compared with 2015.
Among returnees with a master's degree or above, 27 percent chose R&D positions in the emerging technology industry - a proportion that has increased for three consecutive years. Job-seeking graduates in data mining and voice recognition fields saw the highest growth rate, a year-on-year rise of 30 percent.