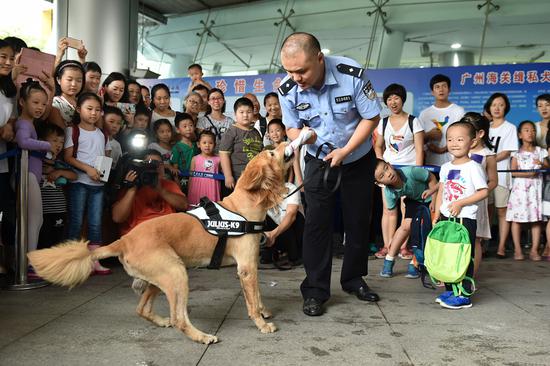 A detection dog signals to its handler at an anti-drug demonstration in Guangzhou on Sunday. Tuesday marks International Day Against Drug Abuse and Illicit Trafficking. (Photo/Xinhua)
China will adopt advanced technologies and new methods to help some foreigners free themselves of drug addictions, a senior Ministry of Justice official said.
Hundreds of foreign drug addicts have been undergoing compulsory detox in rehabilitation centers in China, Cao Xuejun, head of the ministry's Drug Rehabilitation Administration Department, said in an interview last week.
"In addition to medical and physical therapy, we are expanding and updating measures, including a virtual reality drug addiction assessment and correction system and transcranial magnetic stimulation technologies to help them successfully abandon the drugs," he said.
He said the nationalities of hundreds of foreign drug users under compulsory detoxification in China is unclear, as are their identities and addresses. They are confined for treatment at Dehong prefecture's No 6 Rehab Center in Yunnan province.
If foreign drug addicts have clear nationalities and IDs, they are sent back to their home countries, Cao said.
Medicines leave the patients physically dependent on them, which means they will fall into a vicious circle-abandoning the medications and relapsing again, he said.
Moreover, addiction to the medicines for a long time can affect their health and, even worse, can lead to criminal activity. This poses a serious threat to social security and stability.
"We are applying VR and transcranial magnetic stimulation technologies-considered safe physical measures-to effectively help the foreign drug addicts wean themselves off the drugs," he said.
Yunnan borders the Golden Triangle, one of the world's largest drug-producing regions.
It is where over 70 percent of the drugs illegally consumed in China come from, the Ministry of Public Security said.
Cao said most of the foreign drug addicts in detox come from Southeast Asia. Nearly a third are diagnosed with infectious diseases including AIDS, hepatitis, pulmonary tuberculosis and heart trouble.
"We are adhering with Yunnan narcotics control regulations to offer as many high-quality treatment measures as possible to help them, and when they get sick we will immediately send them to the hospitals for free treatment to protect their legitimate rights," he said.
One such case occurred in May, when a man had abdominal pain and fainted in an art workshop at the Dehong No 6 Rehab Center.
He was sent to the hospital for treatment and after examination and testing was diagnosed with acute appendicitis. The hospital decided to operate and after three days of recovery he was discharged on June 4. All his costs were covered.
When he returned to the rehab center, police changed his dormitory to the first floor, and the canteen offered him special food to increase his nutrition.
"When I got ill, the Chinese police immediately took me to the hospital, and they paid all the expenses. I really appreciate their kindness and help, and I want to do better in the rehab center to get out as soon as possible," he was quoted by police as saying.