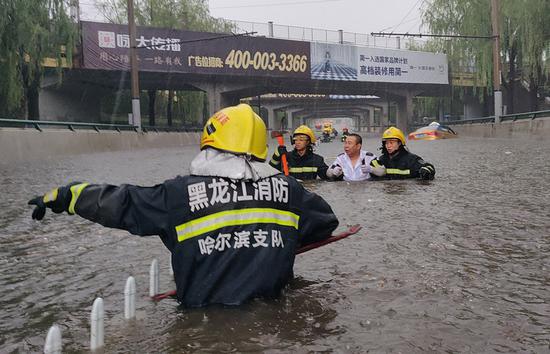 Firefighters evacuate people stranded by a sudden rainstorm on June 11, 2018 in Harbin, Heilongjiang Province. (Photo by Xiao Jinbiao / For China Daily)
The national weather observatory issued a yellow alert on Monday, as heavy rain will sweep most parts of the country.
Heavy rainstorms will hit parts of Shandong, Henan, Shanxi, Gansu, Sichuan, Guangdong and Heilongjiang provinces until Tuesday afternoon, with some of these areas expecting thunderstorms, according to the National Meteorological Center.
Rainfall could exceed 15 centimeters per hour in some regions, the center said.
It warned local authorities to recommend reduced outdoor activities and to take precautions against flash floods and landslides.
On Sunday, the State Flood Control and Drought Relief Headquarters said in a meeting that the heavy rains are expected to last for a week and will lead to an "obvious" rise of water levels in the Yangtze River's upper reaches and its tributaries in the lower and middle reaches.
Some smaller rivers in affected areas might flood, it warned.
In a notice, the headquarters urged flood control departments in affected areas to keep an eye on the weather and take practical measures to prevent flooding and possible natural disasters and guarantee the safety of people's lives and property.
In the past week, intense rain has already caused floods and landslides in the Guangxi Zhuang autonomous region. Six people in a family were found dead in their house, which had been buried by a landslide on Sunday in Lingyun county.
By 3 pm on Monday, five cities and 24 counties in Guangxi had seen floods, affecting 124,300 people. Some 1,871 of them were evacuated. Direct economic losses have reached 90 million yuan ($13.77 million), according to the provincial department of civil affairs.