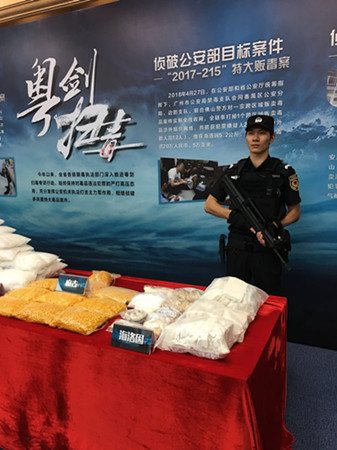 Guangdong police seized more than 5.4 metric tons of narcotics, mostly crystal methamphetamine and ketamine, between January and May, up from 5.1 tons in the first five months of last year. (Photo by Zheng Caixoing/China Daily)
Ten national inspection groups, all headed by ministerial-level officials, will go to 10 provincial regions starting next month to ensure smooth progress in an ongoing campaign against gang-related crimes.
The inspection groups, involving 335 people from various departments, including public security agencies, prosecutors and people's courts, will stay for a month in the 10 regions - Hebei, Shanxi, Liaoning, Fujian, Shandong, Henan, Hubei, Guangdong, Sichuan provinces and Chongqing.
The inspection work, which has three rounds, will cover the whole country by the end of next year. The groups will revisit some places at certain times, according to the leading group of the national crackdown on gangs and organized crimes.
At the opening of a three-day workshop on the inspections on Sunday, Guo Shengkun, member of the Political Bureau of the Communist Party of China Central Committee and head of the Commission for Political and Legal Affairs of the CPC Central Committee, called for joint efforts among the inspection groups to win the fight against gangs and organized crime.
Guo, also head of the leading group of the campaign, encouraged increased efforts by the inspection teams to investigate gang-related cases and crack the "protective umbrellas" behind them.
Inspection teams should have a profound understanding about actual conditions and try to tackle the problems that have prevented the campaign from going deep, Guo said.
He called on the inspection teams to improve the ways and measures needed to fight gangs and organized crime and to get the public involved in the campaign.
On Jan 24, the CPC Central Committee and the State Council launched a new round in the campaign against gangs and other criminal organizations in a joint document.
As gangs and organized crimes are often deeply interwoven with corruption, the campaign will target local officials who offer protection for the criminals, it said.
The document also said that disciplinary agencies and political and legal bureaus should identify and tackle the root of gang crimes and investigate no matter who is involved.
Chen Yixin, secretary-general of the Commission for Political and Legal Affairs, said the performance of local Party committees and governments in the campaign will be one of the inspection focuses, and the results will be the evidence in evaluating the work of local officials.