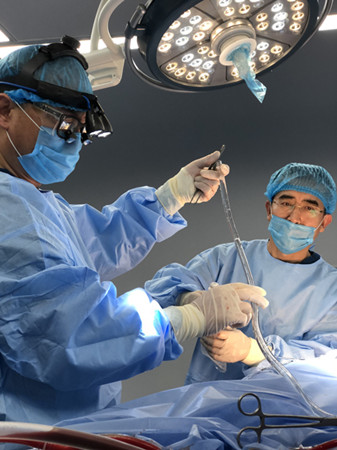 Doctors carry out a cryonic freezing procedure at the Shandong Yinfeng Life Science Research Institute in Jinan, Shandong province, last week. (Provided To China Daily)
The frozen body of a woman who died in Shandong Province on June 17 has become the first in China to undergo a full cryonics freeze procedure - using a technique known as extracorporeal membrane oxygenation, or ECMO - in a city 100 kilometers from where the body was frozen.
Liu Aihui, 72, had been receiving medical treatment at Tai'an Central Hospital in Tai'an, Shandong province - about 100 km from Shandong Yinfeng Life Science Research Institute, the cryonics institution affiliated with Yinfeng Biological Group, a private company based in Jinan that specializes in the research and development of human cell and organ storage technologies.
"It would be very complicated to transfer her to a hospital close to the Yinfeng institute, so experts decided to conduct ECMO at Tai'an and then transport her to our cryonics institute for more procedures," said Li Qingping of the institute.
Aaron Drake, a member of the cryonics team for Liu and an associate of the Alcor Life Extension Foundation in the United States, said this is the first time a mobile ECMO has been undertaken.
Yinfeng conducted China's first cryonics procedure on a whole body in May last year. A woman's body was moved to the Yinfeng institute within 15 minutes after doctors declared her clinically dead.
"The biggest difference between the first patient and the second patient (Liu) was the timing of the ECMO procedure," Drake said.
"This time, when we did the mobile ECMO, we were actually able to start everything at the hospital, right at the patient's bedside, which eliminated types of damage that occur from the time the patient's heart stops beating."
The cryonics procedure involved freezing the body at an ultralow temperature shortly after death using liquid nitrogen.
When Liu's heart stopped beating and doctors declared her dead just after midnight, the body was immediately put on a life-support system, including nutrition and cardiopulmonary support.
It was then sent by ambulance from Tai'an Central Hospital at 3:30 am to the Yinfeng cryonics institute, where it arrived at 4:53 am.
The body was then injected with chemicals designed to protect cells from damage during the freezing process. After that, it was placed in a container of liquid nitrogen, which maintains a temperature below -190 C.
The whole process took more than two days to complete.
The Yinfeng Life Science Foundation, which was launched by the institute, covers most of the expenses of the procedure and storage. The foundation declined to say how much it cost.
Liu, who died of lung cancer, volunteered for the project and gained support from her husband and children.
"She is such a kindhearted woman. She had always thought about donating her body for scientific use," said Liu's husband, Zhou, 73.
"Every new thing needs a pioneer. If nobody wants to try, there will be no progress in the scientific field. It is of great significance if a person can contribute to science after death," Zhou said.
Sang Benqian, a law professor at Ocean University of China, said that China currently has no legislation on the freezing of human bodies. The field is still at the pioneering stage. Legislation should be accelerated to provide legal protection for such scientific research, Sang said.
The container in which the first body has been held is in good operating condition after more than a year, the institute said.