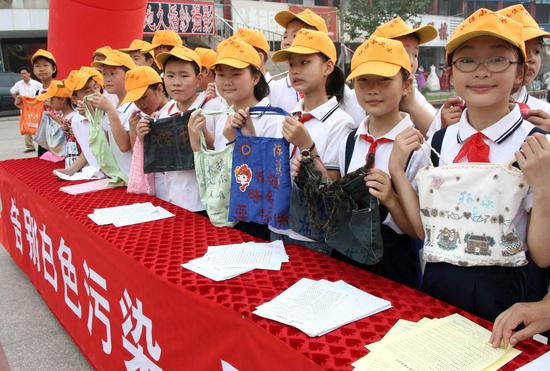 File photo taken on June 1, 2008 shows pupils displaying hand-made shopping bags in Hanshan, a county of east China's Anhui Province. (Xinhua/Cheng Qianjun)
At a high-end supermarket in downtown Beijing, staff walk up and provide green canvas bags to those who shop a lot, though most have brought their own shopping bags.
A notice with prices for plastic bags -- 1.4 to 2 yuan (about 20 to 30 U.S. cents) -- is posted beside the cashier. The prices are almost 10 times the usual in an attempt to remind shoppers of using fewer plastic bags.
"The plastic bags we sell are biodegradable and pose less of a threat to the environment," said Cheng Yanfeng, who works at the supermarket.
A decade ago, China began a war against "white pollution" by banning supermarkets and retailers from offering free plastic bags. Production and use of plastic bags thinner than 0.025 mm have also been prohibited.
Between 2008 and 2016, the nationwide campaign had cut the number of plastic bags consumed in China's large stores and supermarkets by two thirds, according to data from the National Development and Reform Commission (NDRC).
The reduction is equivalent to cutting plastic bag consumption by 1.4 million tonnes and carbon dioxide emissions by 30 million tonnes, the NDRC added.
In January 2015, northeast China's Jilin Province became the first in the country to upgrade the regulation by implementing a further ban on the production and sale of single-use, non-biodegradable plastic shopping bags.
Now 90 percent of supermarkets in the province are using biodegradable plastic shopping bags, according to the provincial development and reform commission.
But there are also setbacks. Daily demand for single-use plastic bags is still strong, especially at open markets and small stores.
At a breakfast stand in Tianjin City, a customer used eight plastic bags for breakfast. The bags were free of charge.
The most popular plastic bags at a store in Changchun, capital city of Jilin Province, sell for 0.1 to 0.2 yuan each. They are very cheap but not biodegradable. Prices of those environmental-friendly ones are higher, and they don't sell well.
"Most customers bargain at the open market, so it's hard for them to pay for a plastic bag," said Yang Yong, a vegetable vendor in Handan in north China's Hebei Province. "I will lose my customers if I were the only one here to charge for a plastic bag."
The fast-growing courier industry has also hindered steps to combat plastic pollution in China.
Data from the State Post Bureau show a total of 6.8 billion plastic bags were consumed in 2016. Although that was a 17.8-percent decline from the previous year, it still triggered nationwide concern as most of the packaging supplies were used only once.
Burgeoning online food delivery services in recent years have become a new big plastics consumer in urban areas. Daily orders taken by China's top three online food deliverers are over 20 million. It is estimated they consume more than 60 million plastic boxes or bags every day.
"Though delivery companies often use cartons to ship the goods, they also use a large quantity of plastic bags and tape inside the cartons. Seldom is the plastic wrap recycled," said Wang Li, professor at Wuhan University of Science and Technology.
In response, the NDRC said it is working to update the plastic ban to reflect the changing situation, which will cover emerging industries such as food delivery services and e-commerce platforms.
Logistics suppliers such as JD.com and Cainiao Network, Alibaba's logistics arm, are also trying to use less plastics that may cause pollution.
Last November, JD.com used recycled packaging bags to replace single-use ones. Cainiao unveiled a "green logistics" master plan last September, featuring 20 "green warehouses" across the globe. All the cardboard boxes sent from these delivery points are tape-free and use 100-percent degradable plastic bags.
According to the State Post Bureau, at least 50 percent of all packing materials used in the courier industry in China should be degradable and two-thirds of the plastic woven sacks should be replaced with reusable cloth bags by 2020.
Technology is also providing solutions to combat "white pollution."
Scientists in Nanle County of Henan Province -- a major farming province in central China -- have developed a new technology to produce biodegradable plastic bags and film from corn or its stalks.
The technology can lower the cost by up to 30 percent. "Technological breakthroughs are expected to greatly promote the use of biodegradable plastic bags in the future," said Mao Bin, an expert on biomaterials.
According to a regulation issued by the county government in March, all supermarkets, shopping malls, agricultural markets, drug stores, food delivery companies, courier companies, restaurants and hotels are ordered to use biodegradable plastic bags starting from June.
Farmers are requested to adopt degradable plastic films for agricultural use from last fall, with the government subsidizing the price difference between ordinary films and environmental-friendly ones.
"Although it is a county-level regulation, Nanle has set an example for the rest of the country in environmental protection technology as well as eradication of non-degradable bags," said Ruan Liuwen, chairman of Longdu Tianren, producer of the bio-degradable plastics.