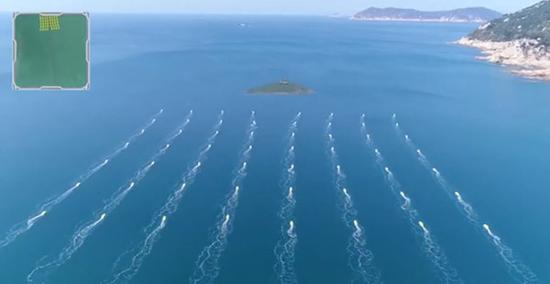 (A still image of the video)
A Guangdong company has tested 56 unmanned boats and is working with the military to develop a "shark swarm" for sea battles and military patrols.
The unmanned drone-like vessels were tested in formation and demonstrated their potential for military use in the sea near Zhuhai, Guangdong Province, according to a statement the company sent to the Global Times on Tuesday.
The boats reportedly avoided islands and reefs, crossed bridges and tunnels, turned and changed their formation into the shape of an aircraft carrier with the slogan "civil-military."
South China-based manufacturer Yunzhou Tech is cooperating with the Chinese arms industry to put the "shark swarm" into the hands of the People's Liberation Army (PLA), the statement said.
Western military powers including the U.S. are developing unmanned equipment including "ant swarms" for land, "drone swarms" in the air and "shark swarms" on the sea, Yunzhou said.
"The institutes together will further develop unmanned vessel systematic devices for reconnaissance, command and attack and will form a 'shark swarm' with different battle functions."
Using artificial intelligence technology, the company vowed to promote the "shark swarm" to be used in daily duty and for real sea battles and to safeguard Chinese territorial waters all the time, the statement said.
Unmanned swarm boats can be used with high efficiency in escorting, mine sweeping, intelligence gathering and amphibious operations, thepaper.cn said.
"Once equipped with weapons, unmanned small combat vessels can attack the enemy in large numbers, similar to drones," Li Jie, a Beijing-based naval expert, told the Global Times on Tuesday.
"A mother ship will control the swarm in combat, making them easy to deploy."
The number advantage means that even if some drone vessels malfunction or are jammed, others can continue, Li noted.
China is a world leader in the technology, Li said, and unmanned vessels will play a significant role in future naval warfare and aid China in safeguarding its sovereignty and territorial integrity in areas such as the South China Sea.