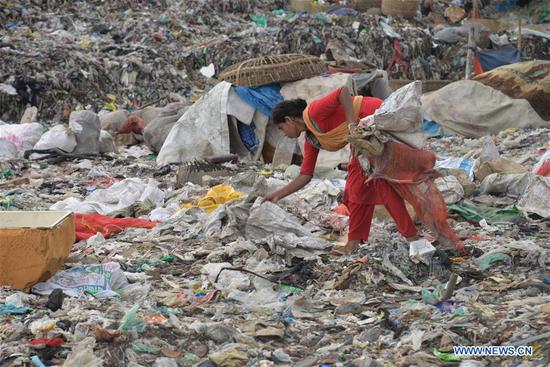 A woman collects plastic products at a dumping spot in Dhaka, Bangladesh, April 22, 2018. (Xinhua)
Plastics, an ideal material for the packaging industry, has become a major environmental concern. Today, the United Nations Environment Programme (UNEP) is celebrating World Environment Day, urging people to reduce single-use plastic products.
Concerned about the piling plastic waste threatening marine and human life, the UNEP decided to hold the celebrations under the theme of beating plastic pollution. "Our world is swamped by harmful plastic waste. Every year, more than eight million tons end up in the oceans," UN Secretary-General António Guterres said on Tuesday.
According to a study by the University of California and Santa Barbara, researchers estimated that 8,300 million tons of virgin plastics were produced from 1990 to 2015, of which 6,300 tons of plastic waste was generated. Only nine percent of this waste was recycled.
Nearly 12 percent of this waste was incinerated, and 79 percent is piling up in landfills or littering the natural environment. Today, around 300 million tons of plastic are manufactured annually, but only less than 14 percent of the total amount gets recycled.
A vast amount of non-recycled plastic often ends up in rivers or dumped into the ocean. A study published in the science journal Environmental Science and Technology claims that the 10 rivers carry 93 percent of that trash are located in Asia and Africa.
Asian countries become dumping grounds as developed nations refuse to recycle trash
Researchers found that the Yangtze, Yellow, Hai, Pearl, Amur, Mekong, Indus and Ganges Delta in Asia, and the Niger and Nile in Africa dump more than 2.75 million tons of plastic waste in the world's oceans.
"If present trends continue, by 2050, our oceans will have more plastic than fish," António Guterres warned. The plastic recycling industry faced major upheaval when the Chinese mainland enforced a ban early this year on 24 kinds of solid waste, including plastic from the West. One of the prominent reasons behind the ban was illegal waste dumping by developed countries.
In a note, the Chinese government apprised the WTO, "Those large amounts of dirty waste or even hazardous waste are mixed in with the solid waste that can be used as raw materials. This polluted China's environment considerably."
The ban prompted the EU and other countries to announce new measures to recycle more plastics and curb the use of single-use plastic. Despite such efforts, countries like Vietnam, the Philippines, and Thailand have become a new dumping ground for plastic and paper waste.
A few ports in Vietnam have also enforced a temporary ban on plastic and paper waste imports.
Meanwhile, the UNEP is promoting bio-degradable alternatives to plastics, reducing plastic use, and ensuring large-scale recycling of plastic. "We've become over-reliant on single-use or disposable plastic. We buy one million plastic drinking bottles every minute and use roughly 500 billion disposable plastic bags every year," said Erik Solheim, head of the UNEP. "In total, some 50 percent of plastic is single-use," he added.
UNEP first celebrated the Day in 1974 to raise awareness and generate political action around global environmental issues including ozone depletion, desertification, and global warming. India is hosting this year's environment day.
By Alok Gupta