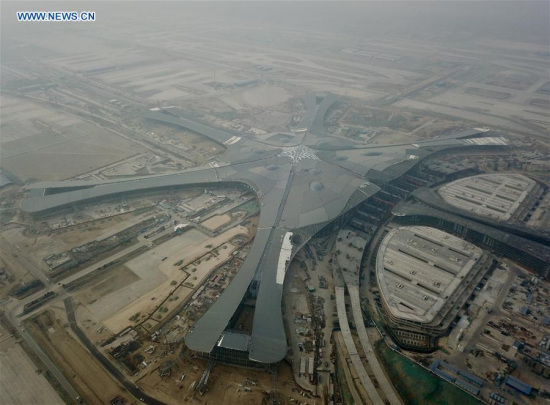 Aerial photo taken on Jan. 18, 2018 shows the construction site of Beijing's new airport in southern Daxing District in Beijing, capital of China. (Xinhua/Luo Xiaoguang)
Beijing's new international airport, now under construction, will bid for shops, restaurants and advertisements in the first half of this year, the project chief said Tuesday.
Yao Yabo, commander-in-chief of the new airport's construction headquarters, said commercial facilities inside the terminal will cover more than 70,000 square meters, around 10 percent of the terminal area.
"We have held a promotion activity to attract global bidders, and many have shown interest," Yao, a Beijing political advisor, told Xinhua at the First Session of the 13th Beijing Municipal Committee of the Chinese People's Political Consultative Conference.
He said the bidding would start as soon as a detailed layout is finalized, which is expected sometime in the first half of this year.
The airport, located 46 kilometers south of downtown Beijing, is designed to take pressure off the overcrowded Beijing Capital International Airport in the northeastern suburbs. It will sit at the junction of Beijing's Daxing District and Langfang, a city in Hebei Province.
Test operation of the airport is expected in October 2019.