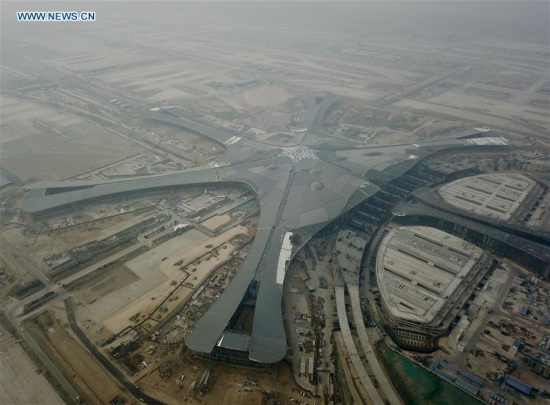 Aerial photo taken on Jan. 18, 2018 shows the construction site of Beijing's new airport in southern Daxing District in Beijing, capital of China. (Xinhua/Luo Xiaoguang)
Beijing's new international airport will start test operation in October 2019, local officials have said.
Engineering projects will be finished in July 2019, and the test operation will start three months later, according to Beijing Municipal Office for Coordination and Promotion of the New Airport Construction.
The airport, located 46 kilometers south to downtown Beijing, is designed to take pressure off the over-crowded Beijing Capital International Airport in the northeastern suburbs. It will sits on the junction of Daxing District and Langfang, a city in Hebei Province.
"Daxing District will prioritize the construction of the airport and the airport economic zone," said Wang Youguo, acting head of the district government.
Airport terminal buildings, covering an area of 313,000 square meters, will consist of a centerpiece and five arms resembling a phoenix spreading out its wings.
In accordance with design, the new airport will have four runways and can accommodate 620,000 flights per year. It will be able to handle up to 100 million passengers and 4 million tonnes of cargo and mail each year in the long run.
The projected airport is 67 km away from the current Beijing Capital International Airport. China Eastern Airlines and China Southern Airlines will be the main carriers at the airport.
The Daxing district government is ready to help global airlines establish branch offices in the new airport, according to the Beijing Municipal Office for Coordination and Promotion of the New Airport Construction.
To better connect the new airport with downtown Beijing, the capital city is speeding up construction of highways and freeways connecting the new airport. All the seven new routes under construction are expected to open to traffic before the airport starts operation.
These airport highways will help boost development of the airport economic zone and promote the Beijing-Tianjin-Hebei regional integration, said an official with the Beijing Municipal Office for Coordination and Promotion of the New Airport Construction.
According to a guideline released by the National Development and Reform Commission in 2016, Beijing will work with Hebei to establish an economic zone to give a full play to the effect of the new airport as an international aviation hub.
The new airport economic zone will cover an area of 150 square kilometers, with one third of the area in Beijing, according to Zhao Jianguo, deputy head of Daxing District Office for the New Airport Construction.
"The economic zone in Beijing will develop aviation related industries," Zhao said. "We will start construction on the infrastructure of the aviation logistics this year."