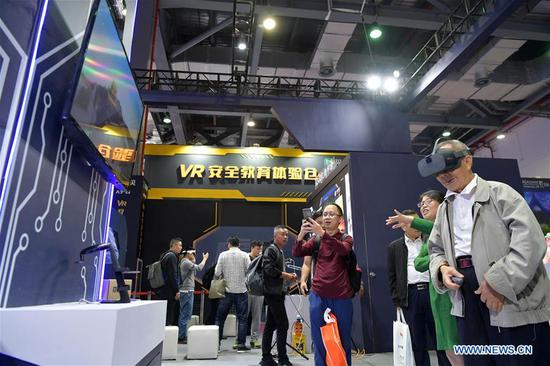 A visitor experiences the virtual reality (VR) device during the 2019 World Conference on VR Industry in Nanchang, capital of east China's Jiangxi Province, Oct. 19, 2019. (Xinhua/Peng Zhaozhi)
The 2019 World Conference on VR Industry kicked off Saturday in Nanchang, capital of east China's Jiangxi Province, highlighting the latest technologies, products and types of businesses related to the VR (virtual reality) industry.
Themed "VR plus 5G for a new era of perception," this year's conference aims to explore the 5G-enabled development of the VR industry in the initial stage of 5G commercialization, which is expected to cultivate new opportunities for various VR application.
More than 7,000 experts, scholars and entrepreneurs in the field of VR, AR (augmented reality) and MR (mixed reality) from home and abroad attended the conference, nearly 300 of whom will share their insights at the main forum and 23 parallel forums, according to the organizers.
The three-day event will feature a VR expo with a 60,000-square-meter display area and 215 domestic and overseas corporate exhibitors and industry organizations from Japan, India, Germany and other countries and regions, demonstrating their latest developments of VR and AR products and applications.
Co-hosted by the Ministry of Industry and Information Technology and the provincial government of Jiangxi, the conference is held annually in Nanchang. China's first industrial base for VR was launched in 2016 in Jiangxi, where a VR industry cluster is now taking shape.
A total of 108 VR industry agreements and projects worth 35 billion yuan (about 5 billion U.S. dollars) were inked during the 2018 conference, according to Yang Wenbin, deputy mayor of Nanchang, who also noted that more than 90 percent of the projects have been either registered or put into operation.