History won't be made this Friday after NASA announced to cancel the much-anticipated all-female spacewalk due in part to spacesuit availability, according to their statement.
Astronauts Christina Koch and Anne McClain were scheduled to set the record of first women-cast debut in space on March 29, responsible for battery replacement outside the International Space Station (ISS).
But NASA said they are going to adjust the assignment personnel because there is only one suitable spacesuit available for two women.
During the first spacewalk with Nick Hague conducted on March 22, Anne learned a medium-size hard upper torso— essentially the shirt of the spacesuit — fit her best, but that one will go to Koch on Friday, the agency said.
NASA has replaced Anne with Nick Hage to conduct their second mission on Friday, during which they will continue to install powerful lithium-ion batteries for one pair of the station's solar arrays, almost identical to the first mission.
The postponed spacewalk has caused a stir on Twitter. People are skeptical about the "clothing-excuse" given by NASA.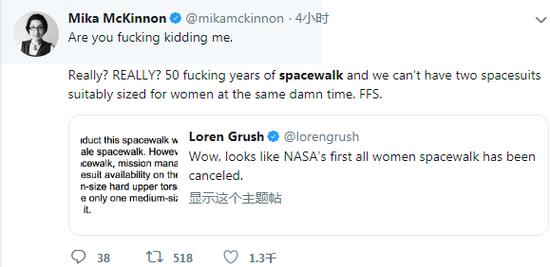 (Twitter screenshot)
In response, Brandi Dean, spokeswoman of the Johnson Space Center in Houston, told AFP, "we do our best to anticipate the spacesuit sizes that each astronaut will need, based on the spacesuit size they wore in training on the ground, and in some cases astronauts train in multiple sizes."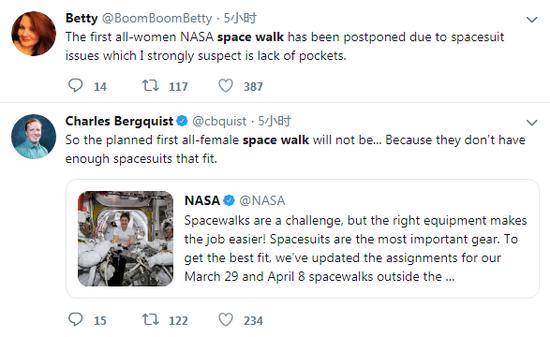 (Twitter screenshot)
She then explained that people's figure may change when in orbit to counter the changes living in microgravity can bring about in a body.
"In addition, no one training environment can fully simulate performing a spacewalk in microgravity, and an individual may find that their sizing preferences change in space," she added.
The spacesuits are not as a simple task as what we think. Experts say they are the assemblies of several parts put together as best adapted to each astronaut's body.
Since 1988, 214 spacewalks have been conducted in the space station, all of them are either wholly male or mixed.