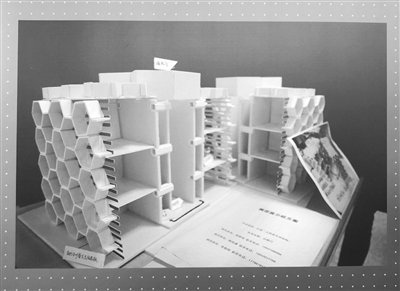 A beehive-like building model is displayed at the festival held by Southeast University. (Photo/Yangtze Evening News)
(ECNS) -- Students at Southeast University in Nanjing displayed their creative works at the university's 10th science and technology festival, with a special focus on the application of biological methods and systems found in nature.
Nie Xiao, a student of the university's School of Civil Engineering, said termite nests influenced the internal elements of his design, while beehives formed the inspiration for external elements.
Nie said termite mounds have air channels that promote ventilation, which inspired him to design a structure with comfortable interior temperatures in the absence of air-conditioning.
The beehive-inspired external elements act as a supportive frame, offering impressive visual effects, and also block direct sunlight and cold wind to help keep inside temperatures stable, he said.
The combination of the honeycomb structure and termite mound elements are a good example of applying bionics to achieve energy conservation, Nie added.
The student festival, scheduled for the coming two months, will include more than 200 events including academic reports, exchanges, science and technology exhibitions and competitions.