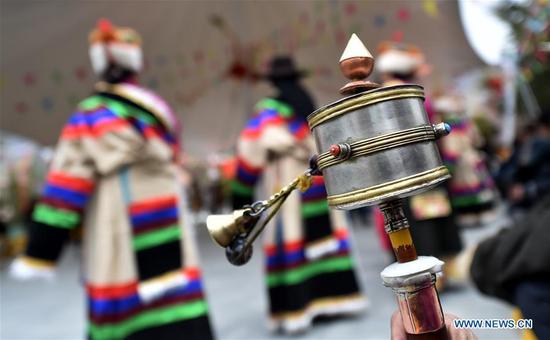 People attend an event to celebrate the 60th anniversary of democratic reforms in Tibet, at a community in Lhasa, capital of southwest China's Tibet Autonomous Region, March 23, 2019. (Xinhua/Chogo)
China's State Council Information Office on Wednesday issued a white paper on democratic reform and the leap of development in Tibet over the past six decades.
The democratic reform in Tibet is the greatest and most profound social transformation in the history of Tibet, said the white paper titled "Democratic Reform in Tibet -- Sixty Years On."
"By abolishing serfdom, a grim and backward feudal system, Tibet was able to establish a new social system that liberated the people and made them the masters of the nation and society, thus ensuring their rights in all matters," the document said.
White paper notes significant progress in eco-environment protection in Tibet
Tibet has seen significant progress in restoring biodiversity, with a forest coverage rate of 12.14 percent, said a white paper released Wednesday by China's State Council Information Office. >>>
Tibet's GDP grows by 191 times from 1959 to 2018: white paper
Tibet's 2018 GDP reached 147.76 billion yuan (22 billion U.S. dollars), about 191 times more than the 1959 figure calculated at comparable prices, said a white paper released Wednesday by China's State Council Information Office. >>>
Life expectancy of people in Tibet rises to 68.2 years: white paper
The life expectancy of the people in Tibet increased from 35.5 years before 1959 to 68.2 years now, said a white paper released Wednesday by China's State Council Information Office. >>>
Tibetan people become masters of their own affairs through democratic reform: white paper
About one million serfs gained personal freedom and became masters of the new society due to democratic reform in Tibet, said a white paper released Wednesday by China's State Council Information Office. >>>