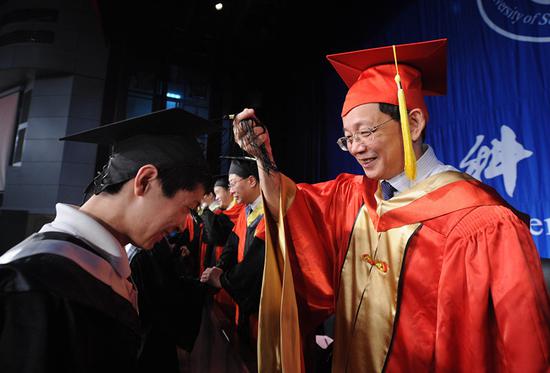 Hou Jianguo, vice president of the Chinese Academy of Sciences, interacts with a graduate at a ceremony in Anhui Province. (Photo/Xinhua)
Model scientist
In November, Shao met with an old friend, physicist Gong Xingao, in Beijing. Both were to receive their academician's certificate for CAS. Gong held Shao's hand, laughed and said, "The mud-playing boy is here."
Shao was born into a farming family in Hunan province in 1956. "I am a farmer's kid, and have loved playing with mud since childhood, but I did not expect to actually achieve anything from it," he said.
He studied electrodynamics at college, but insisted on combining his childhood passion for geography with the rigorous discipline of physics. As a result, he became a researcher in geophysics at the academy's Institute of Soil and Water Conservation in Yangling, Shaanxi province. He has devoted his life to surveying the Loess Plateau.
The surveys usually involve traveling by foot through treacherous terrain and harsh weather to drill and collect soil samples. Shao did the job well into his 50s, often starting at 5 am and finishing after dark.
After more than three decades of research, he has collected more than 15,000 samples, covering almost the entire plateau. "Scientific research can't be impetuous, you must endure hardship and solitude, and create something beneficial to society" he said.
Shao was also indefatigable. At age 27, he narrowly escaped being electrocuted when a 380-volt cable fell on him as he erected a canopy to protect his soil samples during a rainstorm. He carried on regardless.
Early ecological restoration and irrigation efforts on the plateau proved ineffective, so Shao tried to identify the source of the problem using mathematical models and data collected from his survey.
He discovered that some parts of the plateau have higher levels of evaporation and thinner, less fertile soil, which severely limits their ability to produce crops and trees.
However, new mathematical models have allowed scientists and policymakers to craft specific measures to target certain regions, such as planting trees in the southern part of the plateau where growth capacity is relatively high, and reducing agricultural water use by half while ensuring the same harvest.
"These are all practical ways of helping China become a more beautiful country," said Ge Quansheng, director of the CAS Institute of Geographic Sciences and Natural Resources Research.
"Shao's work does not just belong in scientific papers and classrooms - it also touches the lives of more than 110 million people living on the Loess Plateau. He is a model scientist for the new age."