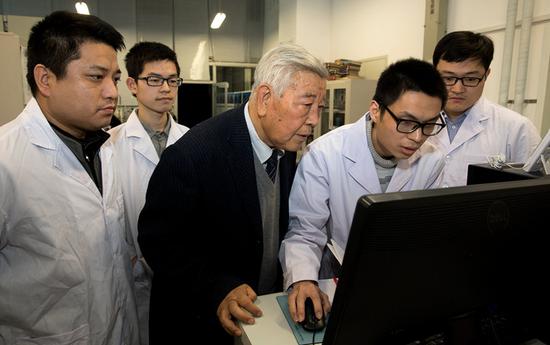 Academician Zhao Zhongxian discusses superconductive materials with his students in Beijing. (Photo/Xinhua)
Life lessons
A poem hangs in the office of Zhao Zhongxian, winner of the 2016 State Preeminent Science and Technology Award, China's highest scientific honor.
The ode - penned by Zhao's colleague Peng Huanwu, a nuclear physicist who paved the way for the development of nuclear energy in China - was written in 1987 to encourage Zhao, who was working on superconducting materials.
The latter section reads, "Returned from overseas, to research and teach, and after several generations of hard work, China's physics can finally take root."
Zhao, who was a visiting scholar at Iowa State University in 1984, said, "The poem summarizes the lives and aspirations of many noted Chinese scientists in past decades."
The 77-year-old returned to China in 1986 to help build superconductors, a key component in advanced electronic devices such as maglev trains, supercomputers and lasers.
Like Zhao, Peng relinquished tenure overseas. He returned to China in 1947 after producing seminal works on theoretical physics at the Dublin Institute for Advanced Studies in Ireland.
For his contribution, Peng was elected to the Royal Irish Academy in 1948, despite his absence.
"When I asked him why he returned, he said there was no special reason," Zhao said. "He just wanted to use his knowledge to help his country, which sorely needed talent like him."
In 1959, nuclear energy, rockets, satellites and semiconductors were the most popular subjects among Chinese college students.
"We were fascinated by the Soviet Union's scientific achievements, especially after it launched Sputnik 1, the first artificial satellite, in 1957," Zhao said.
About 2,500 people sat in the fields at the University of Science and Technology of China in 1959 and listened to nuclear physicist Qian Sanqiang report on scientific development, according to Zhao.
"We were thrilled by science, but also felt a strong sense of responsibility," he said. "But we soon discovered that passion is not enough, you must also have knowledge. This is only achievable through dedication and intense concentration."
Renowned mathematician Hua Luogeng was known to lose himself in deep thoughts, even during conferences. "His face always looked so serious because he was thinking about math problems all day," Zhao said. "Hua taught me by example that scientists really have to give it everything to succeed."
Zhao took the lesson to heart, and spent half a century researching high-temperature superconducting materials. In 2013, his discoveries earned him first prize at the State Natural Sciences Awards, China's highest accolade for basic research.
"Scientists often jokingly called my field'a cold stool', given how long and difficult it is to make breakthroughs," Zhao said. "But I believe that with passion and dedication, and if you sit on the cold stool long enough, it can become warm."
In addition to dedication, Zhao said that to be innovative scientists need to excel at three things: spotting anomalies; creating solutions; and drawing conclusions.
The prerequisite for these conditions is "mastery over knowledge and one's subject", he said. "Sometimes original research is not as complicated as we think; the key is to find a goal worth devoting your interest and attention to for life."