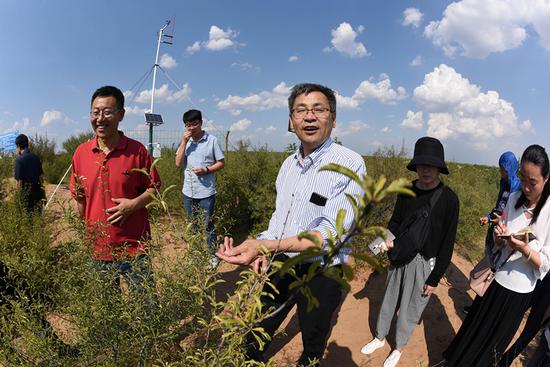 Geophysicist Shao Ming'an oversees the management and recovery of a sand ecosystem at an afforestation base in the Ordos Desert in Shenmu county, Shaanxi Province. (Photo/CHINA NEWS SERVICE)
Highest academic institution urges members to transform China into a technological powerhouse.
In September last year, despite having serious heart disease, Shao Ming'an, a noted geophysicist and member of the Chinese Academy of Sciences, asked his doctor to unclip his heart monitor and other medical equipment so he could leave the hospital temporarily.
Shao wanted to advise his new PhD students on their admission reports. After two hours interacting cheerfully with the students, Shao returned to the hospital exhausted but fulfilled. None of the students knew he was seriously ill.
"I don't fear death," said the scientist, who in 2013 taught geophysics for a week from his hospital bed so his illness would not jeopardize the progress of his class. "Scientists have to be ready to sacrifice themselves. I simply want to be as useful as possible to the country."
The 62-year-old has spent 36 years improving ecological restoration and irrigation techniques across the 640,000-square-kilometer Loess Plateau in central and northern China, one of the largest, most fragile ecosystems in the world.
He is one of many scientists from the academy, China's highest academic institute, who have dedicated their entire lives to the country. He embodies the academy's motto - "Serving the Nation through Science and Technology" - which has been upheld since it was established in 1949.
Now, the motto is becoming more prevalent within the scientific community as the nation's overreliance on key technologies from other countries is highlighted by the current trade dispute with the United States.
In April, ZTE, China's No 2 telecommunications equipment maker, was forced to suspend operations because inventories were almost exhausted after the US imposed a seven year ban on its purchase of crucial components, including computer chips, on allegations it had breached sanctions on exporting goods to Iran. The ban was lifted in July.
On May 28, during a meeting with scientific and engineering academicians, President Xi Jinping said reliance on other countries' key technologies, from high-end chips to basic software, has not fundamentally changed over the years.
Xi urged the nation's top scientists to rekindle their patriotic spirit and make greater efforts to solve key technological issues that are hampering growth.
In an address to young scientists at the July launch ceremony of the academy's first education center on patriotism, Hou Jianguo, vice-president of CAS, said, "In our nation's great time of need, we scientists must align our personnel work to help the country's development."
He advised them to inherit diligence, devotion and patriotism from their mentors and past generations of scientists, and noted that 63 percent of the 790 CAS academicians are Party members, "and they have contributed greatly to China's technological development".
"At the academy, young scientists who are also Party members are playing important roles in many fields," he said.
"But young scientists can learn much from their role models, and doing so will arm them with the spirit to shoulder the duty of turning China into a global technological powerhouse."
Li Wei, a researcher at the academy's Institute of Zoology, said whenever he has trouble at work or in life, his mind is eased by recalling the Party's history and role models.
"It is our (young scientists) duty to work for the prosperity of the people and the nation," he said. "Innovation will be our answer to the call of duty, and we will work hard to create new achievements that can live up to expectations."