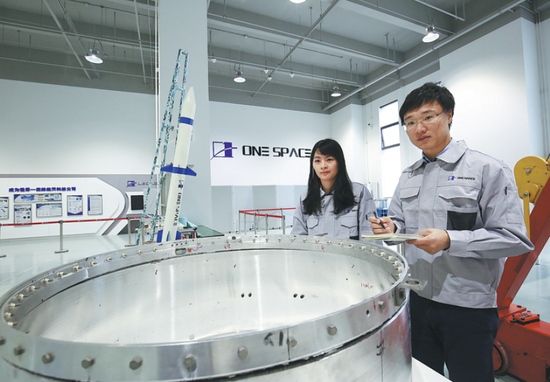 OneSpace Technology CEO Shu Chang (right) works at the private rocket company's exhibition room in Beijing. (Photo/China Daily)
OneSpace Technology CEO Shu Chang's 4-year-old daughter often tells her kindergarten classmates that her father "makes giant rockets".
The entrepreneur and his wife have repeatedly told their daughter not to "show off", but she has good reason to be proud. Shu founded China's best-known private rocket maker three years ago and is often compared to Elon Musk, the founder of SpaceX in the United States.
Shu, 32, led the employees at OneSpace-the first private enterprise in China licensed to design and make carrier rockets-in the successful production of a small rocket launched in mid-May. The success generated a wave of media reports about Shu and his company, with many articles calling the Beijing startup China's answer to SpaceX.
Shu was born in December 1985 to a family of businesspeople in Yueyang, Hunan province. During his childhood and adolescence in the prosperous city, Shu knew little about space exploration and rockets. Instead, he dreamed of starting his own business. "I was a leader in my class at middle school, and my scores were fairly good," he said. "My teachers told me that they expected me to become a leader in whichever career I chose."
However, he was not sure what industry to choose for his business. At the age of 18, Shu was admitted to Beijing's Beihang University, which specializes in aeronautics and astronautics, majoring in aircraft design-a field he chose because it seemed a "cool" specialty.
However, he did not join an aircraft design institute after receiving his bachelor's degree in 2008; instead, he joined a Beijing startup that was trading aviation materials. Shu said he felt he "needed to amass some experience in doing business at a startup".
But he did not spend long in that first job, as he found he still "lacked a lot of things" he needed before "becoming qualified to start a business". He quit the job and applied for a two-year postgraduate program at Peking University's Guanghua School of Management, one of the top business institutes in China.
In his final days at Guanghua, Shu was given several offers from well-paying private equity firms, but he decided to join an investment foundation of China Aerospace Science and Technology Corp, the biggest State-owned space contractor. He worked there from 2011 to 2013, first as an investment analyst and then an investment manager.
Having learned about corporate financing and investment analysis at the foundation, Shu took the last step before starting his own enterprise-joining Legend Holdings to learn business strategy and corporate management.
At Legend, Shu was quickly promoted from an investment manager to a vice-president of investment due to his impressive performance, said He Wen, a colleague at Legend who is now a founding partner at Chunxiao Capital.