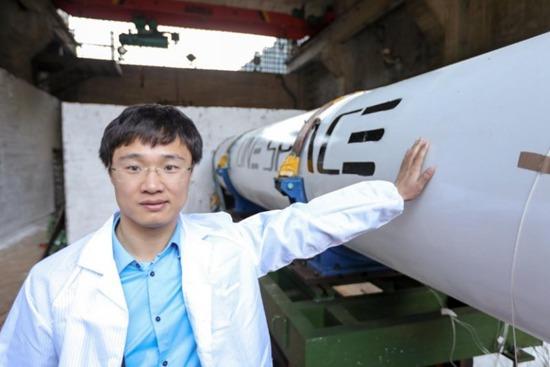 Founder of OneSpace Technology Shu Chang. (Photo/China Youth Daily)
(ECNS) - Founder of OneSpace Technology, which launched China's first privately-developed rocket weeks ago , said the company might consider moon exploration and manned space programs in future.
The Beijing-based private firm launched the "Chongqing Liangjiang Star" rocket, powered by a solid fuel engine, from a launch center in northwest China on May 17. The nine-meter-long, 7,200-kilogram rocket has a maximum altitude of 38.742 kilometers and a top speed of more than 5.7 times the speed of sound.
In an interview with China Youth Daily, Shu Chang said the successful launch was a milestone in space exploration, a change from 0 to 1, and would certainly help the startup win more customers.
Referred to as "China's Elon Musk", Shu said OneSpace technology lags far behind SpaceX but will enjoy competitive prices in the international market. "For now, we are taking baby steps in a specific field," he noted.
The company now enjoys a price advantage when it comes to rocket launching services, at about $20,000-30,000 per kilogram, lower than the global level of $30,000-50,000 per kilogram.
Price advantages come from relatively lower costs in Chinese engineers, materials and land resources while innovation also makes OneSpace more competitive.
Costs will be lowered by half when OneSpace puts into use its M series and even further when a production base is completed in Chongqing, according to Shu.
OneSpace was established in 2015, while counterpart foreign companies formed around 2002. Its funding is insufficient, and policy underdeveloped in terms of commercial rocket launching, it was said.
The traditional rocket control system is approximately hundreds of kilograms per one unit, but OneSpace has been able to integrate up to eight units into one and reduce the weight to about 1.8 kilograms, so the rocket can have a higher carrying capacity.  
Shu said he hopes society will become more tolerant of the startup, encouraging its risk-taking spirit, and provide space for OneSpace's development.