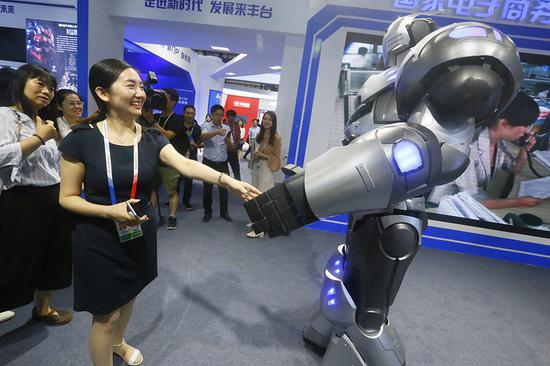 A visitor shakes an AI-powered robot's hand at the 5th China Beijing International Fair for Trade in Services on May 28. (CAO BOYUAN/FOR CHINA DAILY)
China will resolutely follow the path of innovation-driven development and strengthen its own high-tech industries regardless of the increasingly complex and unpredictable international situations, a senior official said.
On Tuesday, United States President Donald Trump suggested that he might ease up on his demands for new restrictions on Chinese investment in U.S. industrial sectors and rely instead on the established Committee on Foreign Investment in the U.S. to screen such investments, according to U.S. media reports.
Regardless of the changing situation, China's National High-Tech Industrial Development Zones will continue to improve their innovation capability in advanced scientific fields, said Zhang Zhihong, director of the Torch High Technology Industry Development Center in Beijing. The center is under the Ministry of Science and Technology.
China will also increase investment and intellectual property protection, nurture world-class industrial clusters and innovative talent, and maintain stable growth in the development zones' high-tech manufacturing sectors, Zhang said in an exclusive interview with China Daily.
This year marks the 30th anniversary of China's high-tech development zones, which are industrial parks for developing industries ranging from biomedicine to electronics.
High-tech zones are typically divided into city, provincial and national tiers, with the national level being the most competitive. The first national high-tech zone was launched in Zhongguancun in Beijing, turning the onetime neighborhood of electronic vendors into one of the world's top technology hubs.
"After 30 years of development, the national high-tech zones have become a key engine for China's innovation-driven economy and the bedrock for supporting China's high-tech manufacturing industries," Zhang said.
In 2017, the 156 national high-tech zones had a gross industrial output worth 20.3 trillion yuan ($3.07 trillion), and a total operating income of 30.7 trillion yuan, according to the center.
The gross domestic product of these zones reached 9.52 trillion yuan, taking up 11.5 percent of the country's total GDP last year.
More than 35 percent of the national total revenue in high-tech manufacturing came from such zones. Electronics and communication devices, computers and office equipment, and aeronautics and space technologies were some of the main products from high-tech zones.
Companies from national high-tech zones spent more than 674.8 billion yuan in research and development last year, accounting for 38.6 percent of the national total in R&D spending.
The State Council, China's Cabinet, has approved 168national high-tech development zones, many of which are upgrades from provincial zones in northeastern, central and western parts of the country.
High-tech zones from these three regions tend to grow slower than those from coastal provinces. The upgrades to the national tier show how much these zones have improved in recent years, and will help them attract more talent and investment, Zhang said.
China's advanced manufacturing sectors are also becoming globally competitive, he added. Zhongguancun and Shenzhen now have a significant global impact on the next generation of information technologies, such as the internet, big data, artificial intelligence and telecommunications.
"The high-tech zones will help speed up the integration of internet technologies with manufacturing, increase China's self-sufficiency in advanced technologies and find new ways of opening-up and collaborating with other countries," Zhang said.