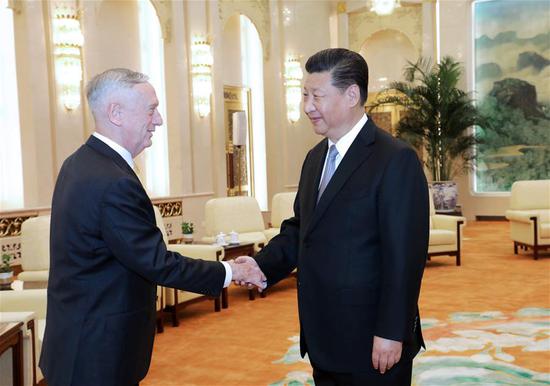 Chinese President Xi Jinping meets with visiting U.S. Secretary of Defense James Mattis in Beijing, capital of China, June 27, 2018. (Xinhua/Li Gang)
China is committed to peace and won't cause "chaos" in the world but cannot give up even an inch of territory that the country's ancestors have left behind, Chinese President Xi Jinping told visiting U.S. Defense Secretary James Mattis on Wednesday.
"The vast Pacific Ocean can accommodate both China and the United States and other countries," Xi said during the meeting at the Great Hall of the People in Beijing.
"We cannot lose even one inch of the territory left behind by our ancestors. What is other people's, we do not want at all."
Xi urged the two nations to enhance communication and mutual trust and to deepen cooperation and control risks.
"Over the recent years this military relationship has had good momentum... I would like to hope this momentum of the military relationship would continue," the Chinese president said.
"We should be promoting military-to-military relations to become a stabilizer of bilateral relations."
In response, Mattis underscored the importance of the Sino-American military relationship.
"I am here to keep our relationship on the right trajectory, keep it going in the right direction and to share ideas with your military leadership, as well as look at the way ahead," the Pentagon chief told Xi.
"I am happy to be in China and we are assigning the same high degree of importance to the military-to-military relationship."
Xi said the China-U.S. bilateral relationship "is one of the most important" in the world. "But we share more common interests in a wide range of areas than differences between us," he added.
He stressed that the history of the establishment of diplomatic relations between China and the U.S. for nearly 40 years shows that the relationship is developing well, and "it can benefit the people of the two countries and the world, and be conducive to peace, stability and prosperity."
Xi also emphasized China's commitment to peaceful development, adding the country has no interest in expansionism or colonialism.
Mattis responded that the U.S. is willing to strengthen strategic communication and expand mutual benefit, avoiding "conflict and confrontation" and making the military relationship a constructive factor in promoting the development of relations.
Mattis began his three-day visit to China on Tuesday. His trip is the first by an American defense chief since 2014 and comes amid tensions between Washington and Beijing over the South China Sea.
Speaking earlier on Wednesday, the Chinese Defense Minister said that Mattis' visit helps ease tension and promote mutual trust.
The U.S. defense secretary will later travel to the Republic of Korea and Japan.