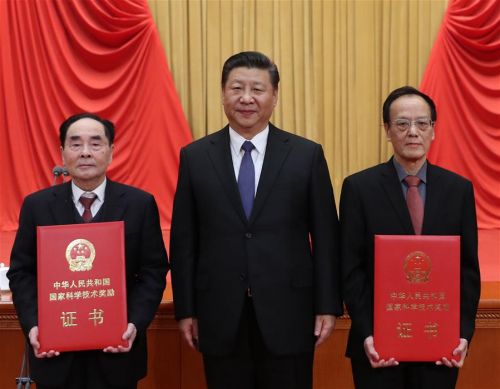 Chinese President Xi Jinping (C) poses for a photo with explosives expert Wang Zeshan (R) and virologist Hou Yunde, winners of China's top science award, at the National Science and Technology Award Conference in Beijing, capital of China, Jan. 8, 2018. (Xinhua/Ju Peng)
China is planning to update the regulation of its top science awards by lifting the restriction on the nationality of winners, Wednesday's Beijing Youth Daily reported.
The revised regulation has adjusted the winner from "citizens" to "individuals," making it possible for foreign nationals to receive the National Science and Technology Awards in the future.
The number of science awards in natural science, technological invention, and sci-tech progress has been adjusted from 400 to less than 300 in total, and the recipients of the China International Science and Technology Cooperation Award, for foreign scientists, shall not exceed 10 each year, according to the revised rules.
It also added provisions on the publicity system, saying that the rules, procedures, and results of the nomination and review of the top science awards should be publicized and subject to social supervision.
The revised regulation also strengthened punishment, saying that winners who have plagiarized or by any other wrongful means cheated on the awards will be penalized and the prize revoked.
The publicity of the awards shall be objective, accurate, and without being exaggerated or false content. Any goods or services in commercial promotion shall not be expressed in the name of the National Science and Technology Award winners, the regulation said.
The current regulation on National Science and Technology Awards was passed in 1999. The Ministry of Science and Technology has submitted the revised regulation to the State Council for approval.
The public has until July 26 this year to give suggestions on the revised rules, which have been published on the website of Ministry of Justice.
China gives the National Science and Technology Awards to scientists for their outstanding contributions to scientific and technological innovation every year. The awards are presented by state leaders at the annual ceremony.