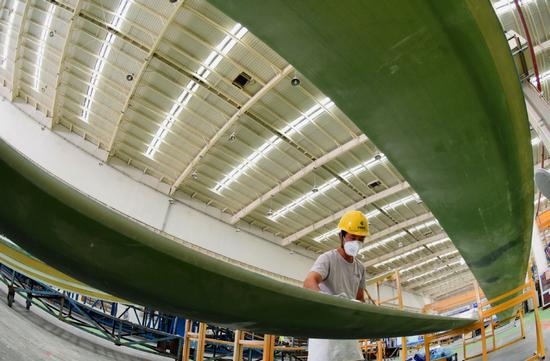 An employee works on the production line of a wind-power equipment manufacturer in Lianyungang, Jiangsu Province. (Photo/CHINA DAILY)
Growth uptick in May helps dispel fears of impact from trade spat
Profits at China's industrial firms showed steady growth in May, an indication that the economy was gathering steam on the back of supply side reforms, despite rising trade tensions with the United States, official data showed on Wednesday.
During the first five months of this year, large industrial firms gained profits valued at 2.73 trillion yuan ($413 billion), up 16.5 percent from the same period a year ago, as profits in heavy industries, such as oil and natural gas extraction, rose sharply, according to data from the National Bureau of Statistics.
In May alone, the indicator went up by 21.1 percent to 607.1 billion yuan, retaining strong growth pace, though slightly slower than the 21.9 percent growth in April, it said.
The industrial sector continued to show improvement in cutting leverage, as the debt-to-asset ratios of major industrial firms dropped by 0.6 percentage point year-on-year to 56.6 percent by the end of May.
He Ping, chief statistician with the NBS, attributed steady growth in the industrial sector to results of continued reforms, price inflation and lower operating costs.
Earlier data showed that the producer price inflation rose for a second consecutive month on an annual basis by 4.1 percent in May.
His comments echoed earlier remarks by head of the bureau Ning Jizhe, who said that efforts to implement supply side reform have achieved desirable results, citing data of continued improvement in profit growth and industrial output during the first six months of the year.
Xie Yaxuan, chief economist with China Merchants Securities, said a slew of measures to implement reforms, such as tax cuts and efforts to cut overcapacity, helped buoy profit gains despite weak demand.
The monthly growth pace of industrial profits is expected to stay at around 13.2 percent on average this year, according to Xie.
Looking ahead, stable profit growth in the industrial sector is expected to continue to play a positive role to support the economy, phasing out the negative impact of expected slower growth of credit expansion, as the nation is trying to curb shadow banking risks as part of broader efforts to contain financial risks, UBS Securities said in a research note.
In May, total social financing, a broad measure of credit growth that includes off-balance-sheet forms of lending, was reported at a two-year low of only 760.8 billion yuan, which is 302.3 billion yuan lower compared to the same period last year, according to data from the People's Bank of China.