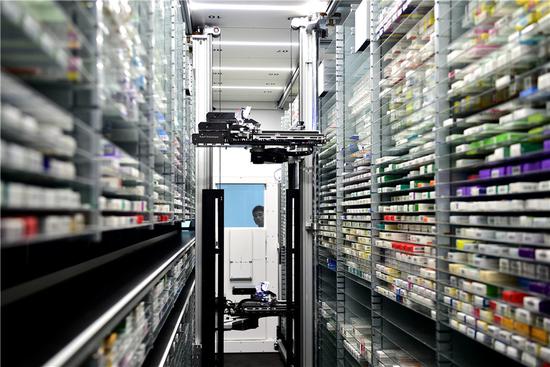 An automated system dispenses medicine for patients at Affiliated Fuyang Hospital of Anhui Medical University, in Fuyang, Anhui Province. (Photo/Xinhua)
Technology tags along on ward rounds at China's first intelligent hospital
Anhui Provincial Hospital became China's first intelligent hospital in August, using artificial intelligence-enabled systems to help doctors with medical diagnoses and treatment.
Four months later, the hospital, in Hefei, Anhui's provincial capital, was renamed the First Affiliated Hospital of University of Science and Technology of China.
Yan Guang, the hospital's deputy head and the man in charge of its intelligent transformation, said that when it launched an AI-enabled smartphone application in 2016, doctors and nurses were keen to use it.
Developed by iFlytek, an AI company based in Hefei, the system uses speech-recognition technology to type up medical records and image-recognition technology to help doctors read medical images.
"The users of the app, which is a tailored edition for the hospital, soon reached a satisfying number," Yan said. "Then we found there were also nurses among the users, while the system was designed to serve doctors.
"Nice numbers are definitely not all we want. It is the doctors using the app who can help the system improve."
He said he subsequently had to limit use of the app among nurses.
Doctors said the AI-enabled systems have made their work more effective and efficient, although there are still some problems to overcome.
Qi Yinbao said that in his first four years as a neurosurgeon at the hospital, beginning in 2013, he had to spend much of his time writing up patients' medical records every day.
"I usually wrote them between surgeries, and very often would stay in the office after working hours to finish them," he said. "Sometimes I found I forgot some important information and needed to go through all the print records of examination results to refresh my memory."
With the app developed by iFlytek, Qi and the hospital's more than 1,300 doctors now have speech-recognition technology to help them record their diagnoses.
Special dictionary
To open the app, Qi can log in with either a fingerprint or a combination of face and voice recognition. He then just speaks into his smartphone and the app types up the information precisely.
Because doctors use many professional medical terms, iFlytek engineers said they built a special dictionary to make speech recognition more precise.
"The system also features deep learning technology, which means the more doctors use the system, the more precise the results will be," said Lu Xiaoliang, deputy general manager of iFlytek's intelligent healthcare business.
Some senior medical specialists found typing up records on a computer tedious, so the hospital previously had to arrange an assistant for each of them.
"With AI technology, the senior experts can now also work alone well, saving a lot of human resources for the hospital," Yan said.
Qi said the speech-recognition technology could help dentists even more, as they were not able to spare a hand to write up records when working on patients' teeth.
"They just need to keep the speech-recognition function working," Qi said.
The function also works on a computer with a microphone, but it keeps typing as Qi keeps speaking, even though some of the things he says have nothing to do with his diagnosis, and he needs to delete them when he ends the recording.