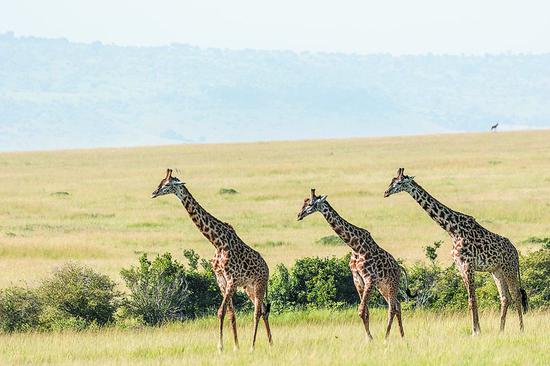 Giraffes wander in the Rift Valley savannah in Kenya's Masai Mara National Reserve. (PHOTO BY XIE SONGXIN/CHINA DAILY)
The International Fund for Animal Welfare and tech giant Baidu are using advanced technology, including big data and artificial intelligence, to help crack down on wildlife-related crimes online.
The effort aims to curb the online trade in wildlife parts and products, as well as trafficking in endangered species such as elephants, rhinos and pangolins.
The partnership, announced in Beijing on Friday, will see Baidu's AI tech applied to all IFAW surveys to find effective solutions to the problem of the illegal wildlife trade online.
"We've summarized lists of frequently searched words in wildlife trading," said Jeff He, IFAW's China director, "but who these searchers or potential traders are, what characteristics or behaviors they have in common, that's what we're hoping to find out by using big data, so that we'll be able to see how to change their minds and reduce the wildlife trade."
The two partners will also cooperate in cleaning up wildlife-trading information online, and promoting relevant policies and laws through various Baidu platforms.
According to the IFAW, wildlife cybercrime has seen a surge worldwide, both in scale and access. A report released by the group in 2014 said that 280 online markets in 16 countries had sold more than 30,000 endangered animal products and live animals in a span of only six weeks.
The internet plays a big role in wildlife-related crime in China. According to the Internet Research Institute, online trading accounted for 100 percent of all tortoise trade cases from January 2015 to May 2016, as well as 73 percent of cases involving reptiles and 67 percent involving rhino horns.
"Wildlife cybercrime is a global challenge," said Meng Xianlin, executive director of China's Endangered Species Import and Export Management Office. "Government, nonprofit organizations and companies all need to raise awareness and work together to protect endangered animals in the world."
In 2015, the IFAW and the Nature Conservancy initiated a project with Chinese IT giant Tencent to encourage the public to report suspected cases of illegal wildlife trading found on social media.
The State Forestry and Grassland Administration issued a ban on all commercial ivory processing and trading in early 2017, Baidu has also deleted more than 197,000 pieces of illegal or harmful information.
Liu Miaomiao, an associate director at Baidu and head of the program, said the move represents a new attempt at leveraging high technology for wildlife protection.
"We will continue to optimize our strategy and work with our partners to help reduce and prevent wildlife cybercrime in China and worldwide," she said.