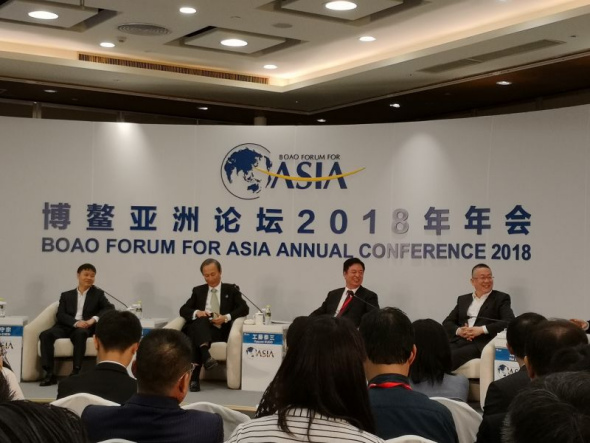 Liu Hualong (3rd from left), chairman of CRRC, attends Boao Forum for Asia Annual Conference in Boao Town, South China's Hainan province on April 9, 2018. (Photo/China Daily)
CRRC Corp Ltd, one of the world's largest rail vehicle manufacturers, is expected to roll out an "intelligent" train during the 2022 Winter Olympic Games, according to the company's chairman.
"The prototype train is 'smart' in all areas, from technology to design to management," Liu Hualong, chairman of CRRC, said at a panel discussion during the Boao Forum for Asia Annual Conference 2018 on Monday. [Special coverage]
By 2020, the company will be on course to unveil a cross-border high-speed train service at 400 km/h that can alternate between different track gauges, Liu said, facilitating outbound rail services to the likes of Russia and Southeast Asia.
Also in three years, it plans to launch sample maglev trains with speed of 600 km/h, which would be faster than any other train currently in operation.
Other initiatives to leapfrog the smart transportation hierarchy include the introduction of high-speed train and subway cars made of carbon fiber, he noted.